Browse by Solutions
Browse by Solutions
How do I bill my customer based on milestone base rate?
Updated on July 26, 2017 12:16AM by Admin
Milestone billing is a very prominent and popular type of billing where invoices are send out to the customers once a certain milestone is achieved. You could say milestones are conditions that trigger the billing process.

For instance, you can create triggers with a criteria based on the number of days since the project began. Milestone can be calculated either manually or automatically.

Apptivo Projects App provides many different forms of billing a project, by milestone, flat fee, or time and expenses.
Milestone billing allows you to bill a customer according to each milestone created within the project. To get started, first you'll need to configure the Projects settings. Lets go over the same.
Create new project
Enter the project name.
Set the start and end date.
Set the project status and priority.
Choose the Billing Method as "Milestone Billing".



Click on "Create" button to create a project.
Create Milestone
Enter the milestone.
Set the start and end date for the milestone.
Enter the base fee for the milestone.


Once the milestone has been created, you can view the billing information in "Budget" tab as shown in the image below: (Note: If there are more than one milestone then project total fee will be a sum of all milestones associated with this project).


Project Budget section involves,
Billing Method – Milestone Billing.
Project Total Fee – The total fee for a project based on a milestone base fee.
Amount Invoiced – This has already been invoiced.
Amount To Be Invoiced – This needs to be invoiced.
How do I generate an Invoice for the Completed Milestone?
If you want to generate an invoice for the milestone billing project you need to complete the billable tasks associated with the project milestone. The warning pop alerts you with the phrase "This project does not have completed milestones, do you want to proceed". If you opt "Yes" then the invoice creation page loads without a project. If you opt "No" it will redirect to project dashboard.


Once it gets completed you can generate an invoice and email to the customer.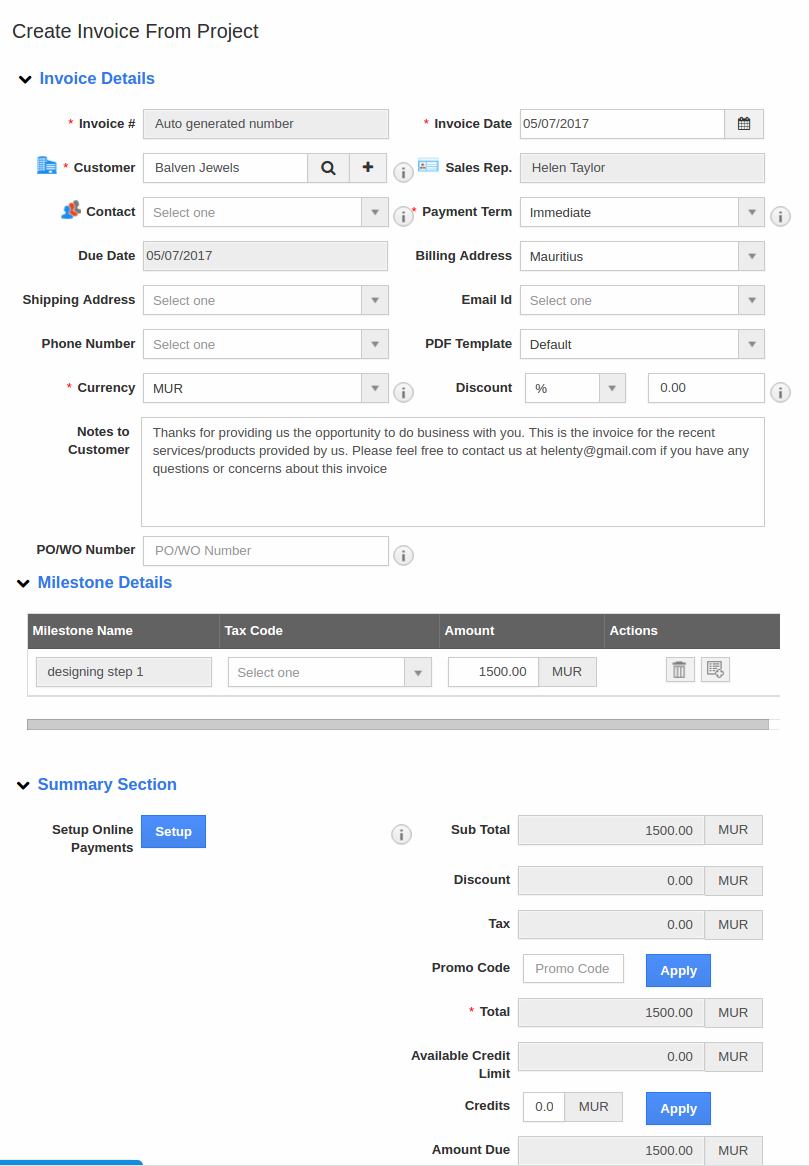 Related Links
Read more about:
Note: You cannot change or update the currency of the project base fee or estimated costs in Projects App, but you can update the billing information in Invoices App.
Flag Question
Please explain why you are flagging this content (spam, duplicate question, inappropriate language, etc):