Browse by Solutions
Browse by Solutions
How do I Generate Customer Details by Territory Report?
Updated on July 19, 2017 11:57pm by Admin
A sales manager have to improve the performance of his team to meet the targets with little to no extra resources. Territory reports that he generates is the key to territory management and aids in achieving the monthly, quarterly, half yearly as well as annual targets. Lets quickly go through these pointers.
Territory management help to increase sales while reducing cost - The primary task of the sales team is to reduce costs while maximizing the time the sales personnel spend on selling. They also need to sell the right products to the right customers. To maximize sales at reduced cost, the sales managers should consider aligned territories. This will ensure a balance in the work load of the team member, greater as well as better earning potential while providing career satisfaction. Once the territory is mapped it will provide route optimization capabilities that in turn will reduce travel and fuel costs.
Measure Performance Through Reporting & Analytics - Use the territory reports to identify insights in your market. These reports measure the current performance against quotas as well as targets. These analytical territorial reports can be shared with other team members and senior managers.
Identify Hidden Insights With Data Visualization - Territorial reports will allow data visualization and will give you a myriad of perspective of the market as it will not only give you a bigger picture as well as granular detail.
There are many cloud based solutions that will aid in increased collaboration as well as sharing at real-time. Thus you can create an up-to-date as well as complete holistic view of the territory that you are in charge.
Customers app
has default standard reports that may be used. You can view the customers based on their territory using reports option called "
Customers by Territory
".
Steps to View Customer details by Territory
Log in and access Customers App from your universal navigation menu bar.
Click on Reportsicon located at the app header bar.

You can view "Sales Report" and "General Reports" in left navigation panel.
Click on "Customers by Territory" in "General reports".

Provide the following information:
Territory - Select a Territory from pre defined list.
Category - Select a Choose from pre defined list.
Start Date - Start date.
End Date - End date.
Click on "View Report" button to view report in dashboard, as shown in below example.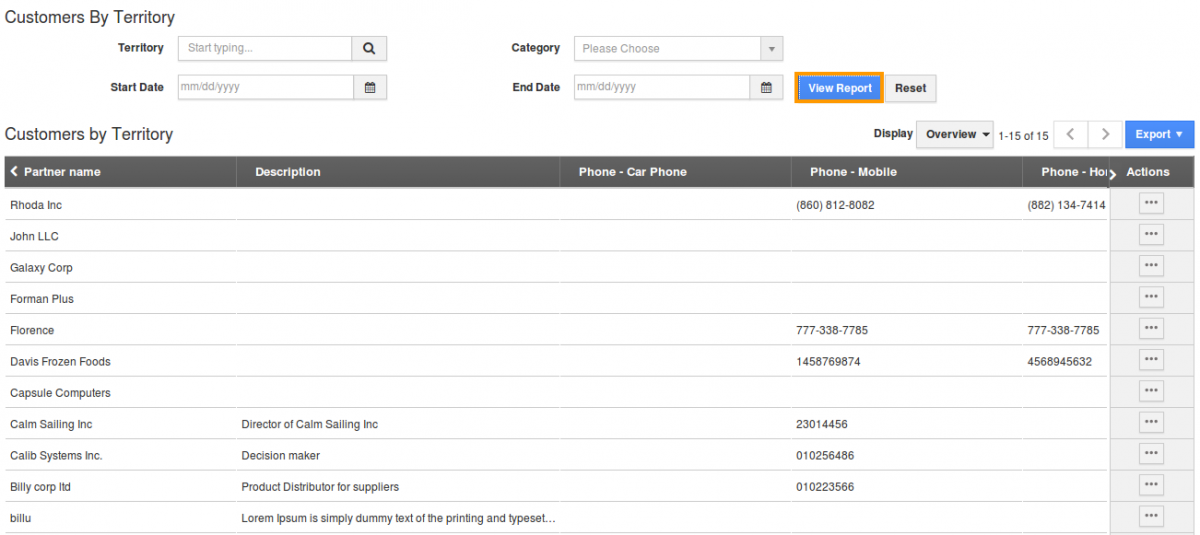 Click on "Export" button to view all fields/current fields report in spread sheet format. For instance current fields were exported in below image.


After selecting "export" option you can see the exported report as shown in below example.


Flag Question
Please explain why you are flagging this content (spam, duplicate question, inappropriate language, etc):