Browse by Solutions
Browse by Solutions
What's new in home dashboard?
Updated on February 22, 2018 01:27AM by Admin
When you logged in you will be first directed to the home dashboard which serves you all the activities, custom view of your activities, favourite Apps at the header level and your assigned objects, task management, email integration etc.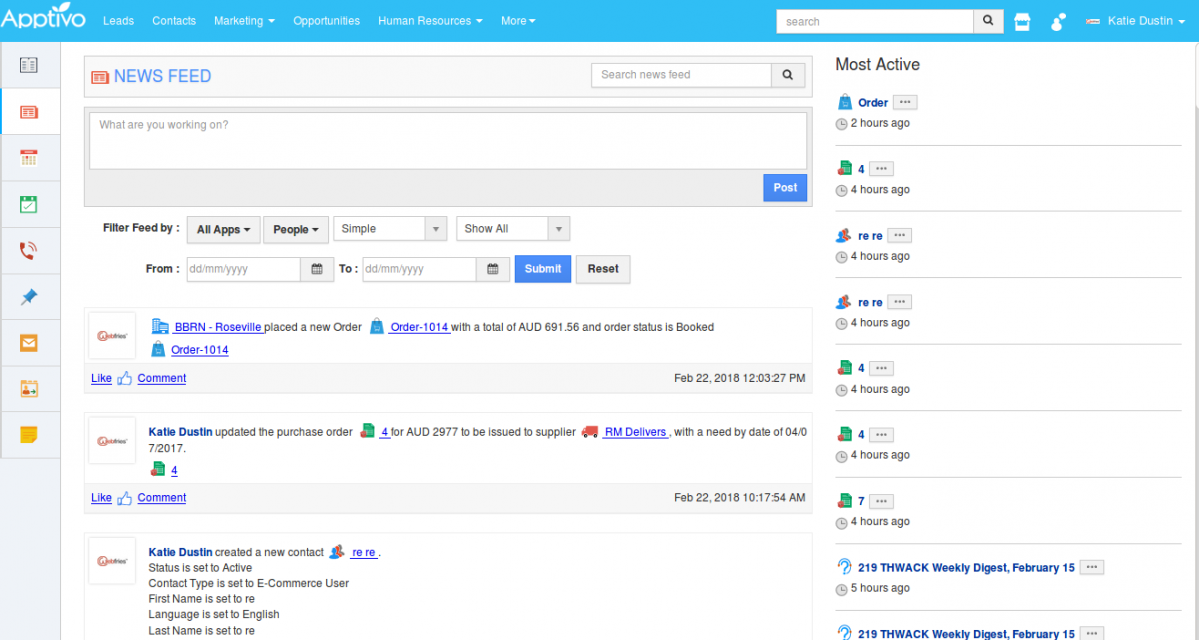 My Agenda
My Agenda combines event, task, and follow up in the system. You can break down your agenda by day, week, or month, as well as filtering your tasks to find overdue or upcoming items. Figuring out what to work on next has never been easier.
Popup alerts – Always stay on top of your reminders. We've introduced a new desktop alert system that can warn you before a meeting starts, or a task is due.
Dashboard Customization – Re-arrange the order of dashboards like news feed and tasks, or remove one completely. You can even configure the default views, such as a weekly or monthly calendar view.
Improved app navigation – Sleeker look along with the ability to add a link for an entire category or an individual application.
News feed
Originally, when users logged into account, they were presented with a customization version of their own profile. The new layout, by contrast, created an alternative home page in which you can view a constantly updated list of your people's activity. The News Feed will be related to the activities of all accessible apps.
News feed highlights information that includes creation of a new task, new invoice, timesheet, order, requirement, contacts etc. among other updates. Each and every modification will be fed in the home page.
You can filter these activities using the "Filter feed by:" field which has two drop downs named All Apps and People. These drop downs lists all the accessible App names and employees associated with the Apps of your business.
You can choose the App name from the "All Apps" and the employee from the "People", you will be resulted with the News feed for the particular filter.
You have the ability to comment and hit like on your employee's activities which lead to the best conversation.
You can post your comments using the editor "what are you working on?".
You can filter the newsfeed by "From" and "To" dates which provide you the activities happened within that period.
Calendar
You can have the custom view of your activities using the calendar. The calendar appears in month, week or day according to your preference.
Tasks
Task management can serve as a foundation for efficient workflow of your business. It requires managing all aspects of a task, including its status, priority, category, duration, task assignee, associated with and so on.
My Work Queue
My Work Queue encompass all the objects associated, in order to make you easy to know what the associated objects are.
My Follow Ups
The follow ups created or assigned to you will be shown in calendar view. So that you will never miss the follow ups assigned to you.
Emails
The emails which are sent by you will be displayed here. You have the ability to integrate multiple email accounts. IMAP based email systems will be supported as well.
Flag Question
Please explain why you are flagging this content (spam, duplicate question, inappropriate language, etc):