Browse by Solutions
Browse by Solutions
How do I Customize the Requirements App?
Updated on July 31, 2017 02:06AM by Admin
Requirements App Settings
Requirements App are provided with meaningful defaults. You can customize them according to your requirements by configuring the application.
Login and access Requirements App from your universal navigation menu bar.
Click on "More -> Settings"icon located at the app header bar.

General
The General settings allow you to configure the "Collaborations", "Quick links", "Reports" and "Tags".

Collaborations:
Collaborations help you to customize "show" or "hide" options in your requirements creation page.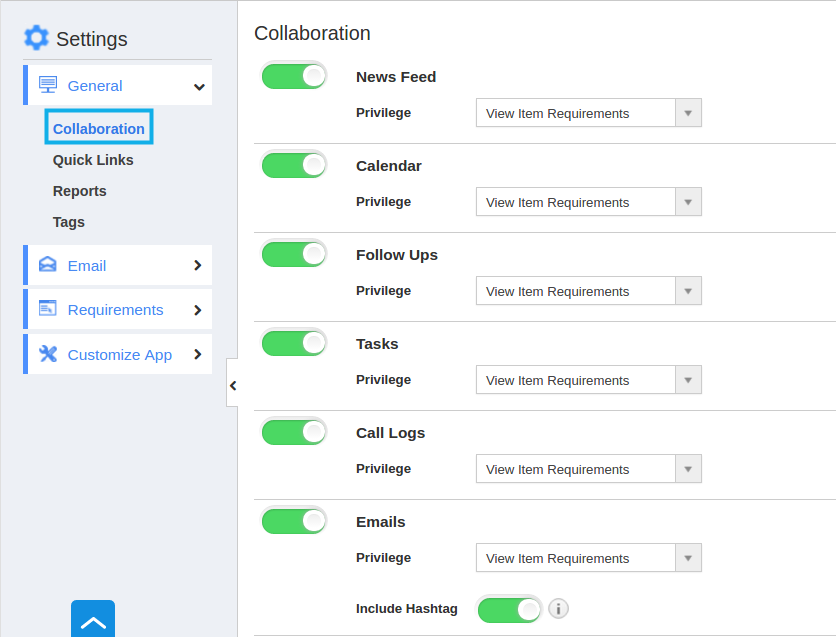 Quick links:
Quick links may contain several links where the user can able to access quickly.



Reports:
It helps to customize the report in your own way. You can show or hide the reports.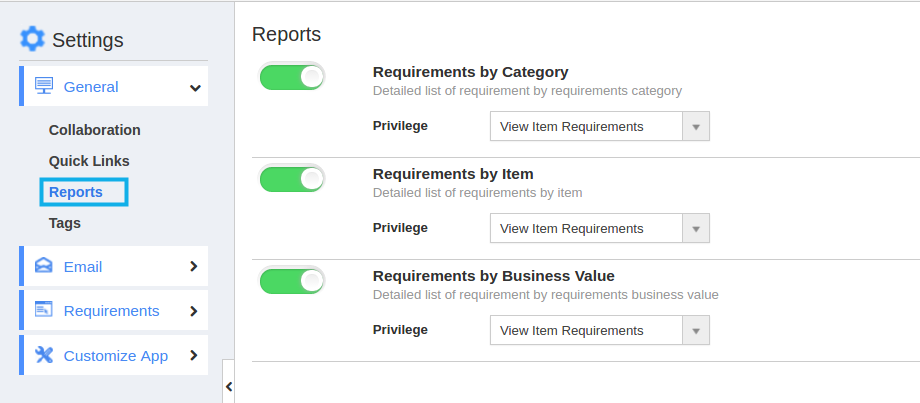 Tags:
Tags are labels which help you to categorise the requirements as per your needs.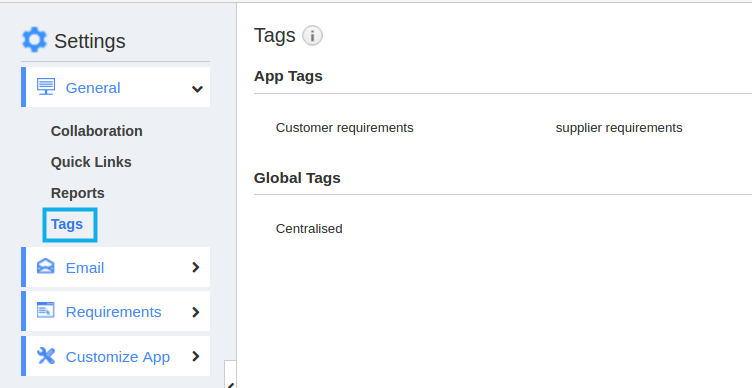 Email:
Email settings allow you to create and edit Email templates of your own.
Email templates:
Email Templates are the common feature for all apps which allow creating custom email templates that you can send to your customers and save frequently used messages for future use in order to save time and they are also used for auto-reminders.


Requirements:
Requirements settings help you to configure "conversions", "numbering", "statuses", "business values" and "categories".
Conversions:
Conversions helps in converting a requirement into project.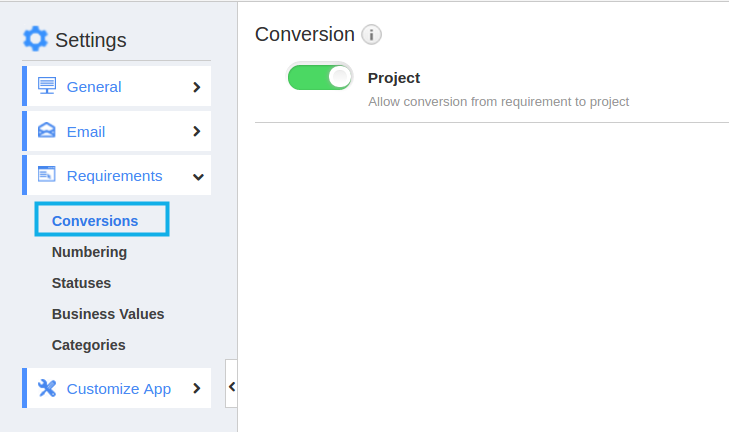 Numbering:
Every requirement will have the unique number you can also enter the number manually at the time of creation or you can have requirements app generate the number for you. If the app is generating the number you have the ability to define the prefix to appear before each requirement number, as well as the number that app will start assigning from. If you have the existing requirements numbers, you can set app to begin generating after the last ID number.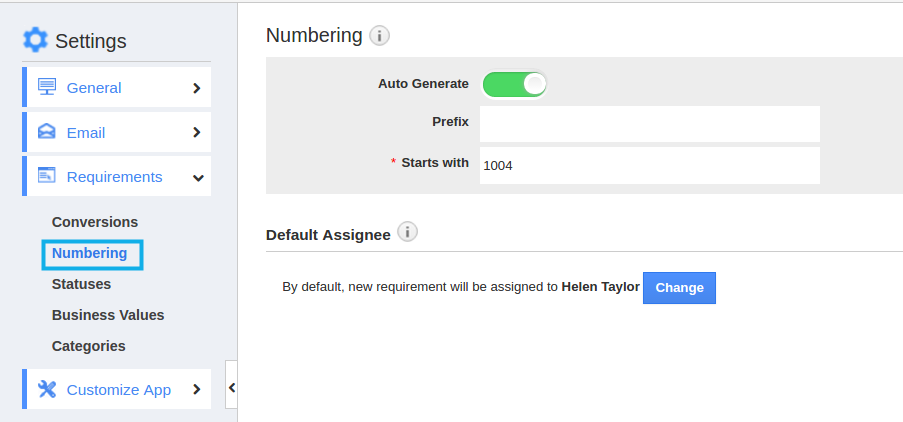 Statuses:
Requirement status describes the current state of the requirement. it will change based on your business product or project management.

Business Value:
Business value field helps to determine how important this requirement is to your business. This will indicate the priority of the requirement to all employees.




Categories:
The categories of the requirement allow you to group the requirements of the same category. There are some seeded categories for the requirements.

Customize App:
Customize app helps in configuring "Master layout", "List layout" and "Views".
Master layout:
Master layout is the common features of all the apps. These are like business attributes which help in customizing your business with custom fields.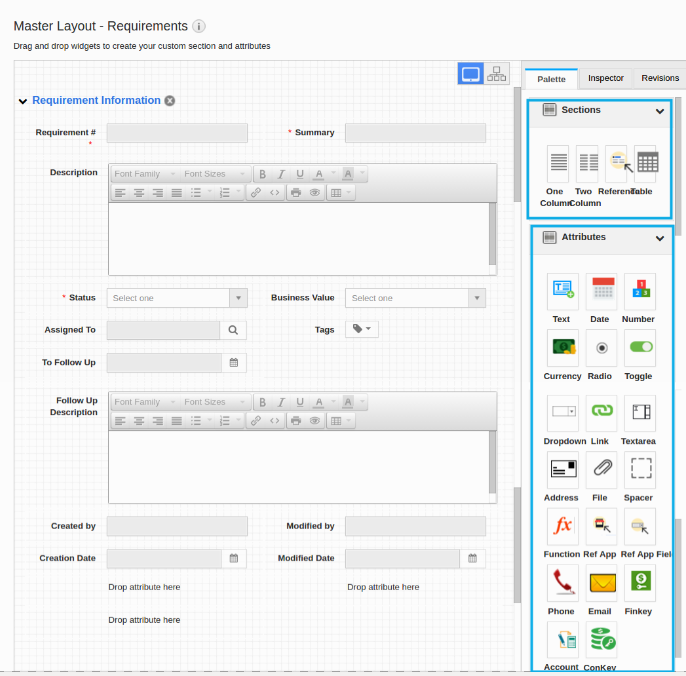 List layout:
List layout helps in customizing the layout of the requirements app according to your business requirements.

Views:
You can use "Views" to configure the menus you see on the left naviagtion panel in the app dashboard.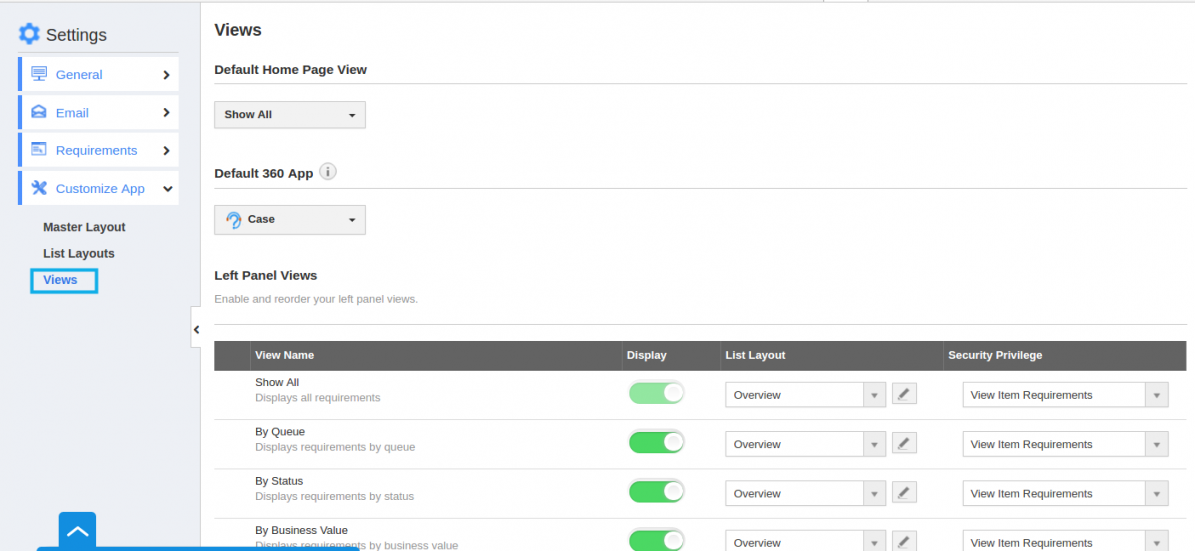 Related Links
Flag Question
Please explain why you are flagging this content (spam, duplicate question, inappropriate language, etc):