Browse by Solutions
Browse by Solutions
How do I Customize the Answers App?
Updated on May 10, 2016 05:30AM by Admin
Answers App settings are provided with meaningful defaults. You can customize them according to your requirements by configuring the application.
Log in and access Answers App from your universal navigation menu bar.
Click on "More"icon and select "Settings"icon located in the app header bar.

Collaboration
Collaboration allows you to customize associated information with activities like News feed, Calendar, Follow up, Tasks, Call logs, Emails, Documents and Notes. Click on "Show/Hide" button to enable/disable information.

Customize App
Customize App provides fields that are unique to your business. Custom attributes allow you to add any custom fields not provided in the creation page. Custom attributes include:
Sections
Attributes

Email a Question
Email to question helps to capture Customer emails as questions. Provide IMAP email accounts to monitor by clicking "Add" button. Turn On/Off to acknowledge when a question is created. Click on "Edit" button to update acknowledge subject and message, if needed.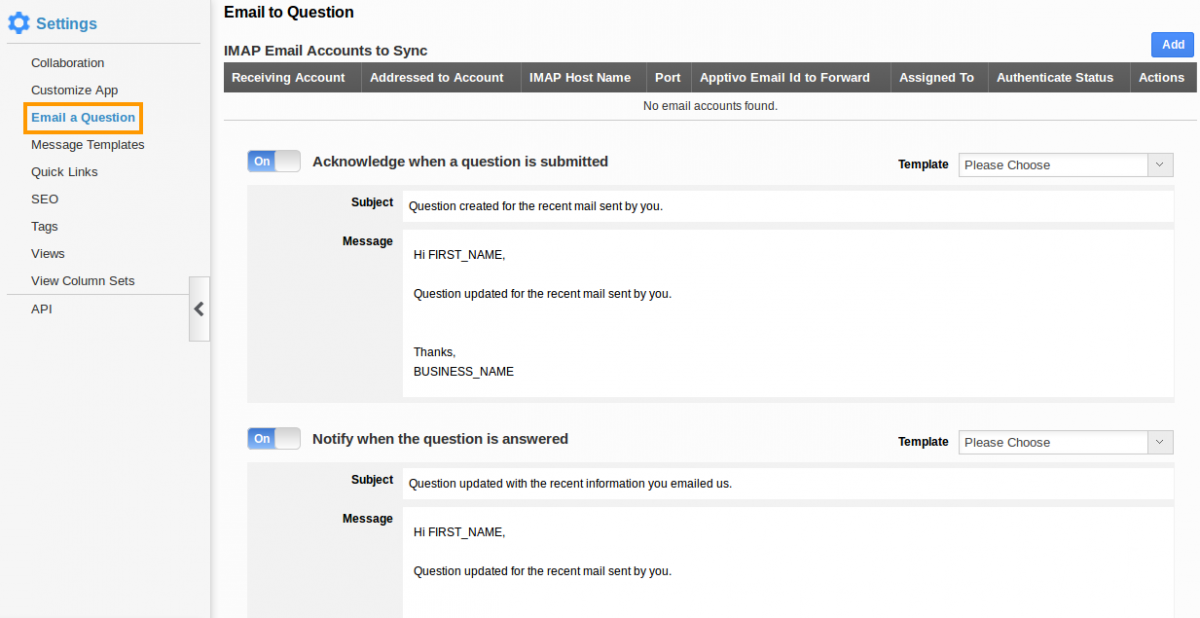 Message Templates
Message Templates allow you to set up predefined messages. These are customized email messages that you can send to your customers Message templates can be used with any email sent from Answers App.

Quick Links
You can add your own referral links for this app. These links will display on the left panel under the "Quick Links" menu. Click on "Create" button to add new quick links.

Tags
Tags allow you to label your objects for easy organization, classification and search. Click on "Create" button to create tags.

SEO
SEO allows you to increase visibility of your questions and answers while searching on web page. You can provide Meta title, description and keywords.

Views
Default Home Page View:


It allows you to set default home page view, which includes: Answers Home Show All By Queue To Follow up By Status

Left Panel Views:
Views found on left navigation panel, are filters that allow you to access questions within the app. You can show/hide views in configuration, but you must at least enable one view.


API
Answers API provides following four API configurations:
Create Answers
Read Answers
Update Answers
Delete Answers.

Flag Question
Please explain why you are flagging this content (spam, duplicate question, inappropriate language, etc):