Browse by Solutions
Browse by Solutions
How do I convert contact to a customer?
Updated on July 17, 2017 11:41PM by Admin
What you need to know when you convert contacts into customers
Converting a contact to customer allows you to edit and update records in the customers apps.
However, when you convert a contact, the original record will remain intact and is accessible from Contacts App.
A copy of contact information appears in Customers App and created as a new customer. This is because, to create customer with the same contact information, you can make use of this conversion feature.
Please note that you can edit the customer record only in the Customers App while you will not be ableto make changes in Contacts App.
Steps to convert contact to customer
Log in and access Contacts App from your universal navigation menu bar.
Create a new contact or select an existing contact to be converted.

Click on "Convert" drop down menu.
Choose "Customer" option to convert.
In customer creation page (Customers App), fill in the following details:



| | | |
| --- | --- | --- |
| Customer Field | Description | Pre populated from Contact? |
| Name | Name of the customer. | Yes |
| Customer# | This is an auto generated or manually entered number to identify customer. | No |
| Category | Select a category from predefined list. | No |
| Sales Rep | Name of an Employee. | Yes |
| Skype | Skype id of customer. | No |
| Email | Email address of customer. | Yes |
| Phone | Phone number of the customer. | Yes |
| Mobile | Mobile number of customer. | Yes |
| Fax | Fax number of the customer. | No |
| Territory | Territory of the customer. | Yes |
| Market | Market of the customer. | Yes |
| Segment | Segment of the customer. | Yes |

Additional information are primary details of the customer.
Address Information includes billing and shipping address of customer.
Description – A short summary about customer.

Click on "Create" button to complete.
The customer information will be found seen.
The contact that was the source for this customer will be automatically associated to this customer.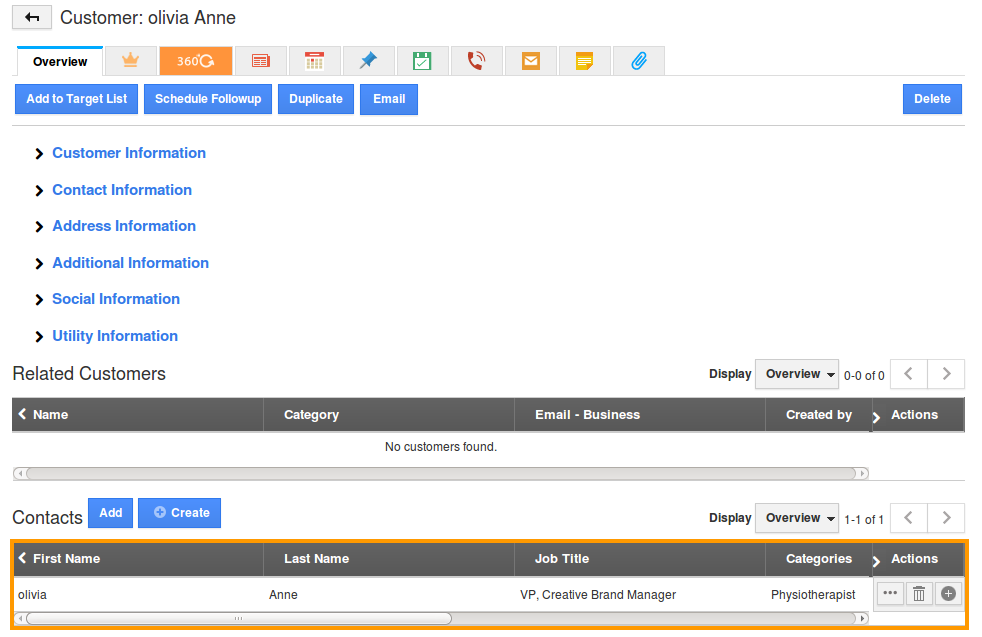 Related Links
Read more about:
Flag Question
Please explain why you are flagging this content (spam, duplicate question, inappropriate language, etc):