Browse by Solutions
Browse by Solutions
How do I convert opportunity to project?
Updated on November 27, 2017 10:27PM by Admin
Opportunities App conversion feature allows you to convert an opportunity into a project.

Note: If the opportunity is in "Closed Won" stage it won't let you convert as it has been marked as completed.

Opportunities can be converted into Project once the sales stage has been changed from Closed Won to any other stage like Prospecting.
Steps to Convert Opportunity to Project
Log in and access Opportunities app from your universal navigation menu bar.
Create a new opportunity or select an existing opportunity to be converted.
In overview page, click on "Convert" drop down menu.

Choose "To Project" option to convert.
In project creation page (Projects App), Fill in the following details:

Project Information

Template - Template of the project
Name - Name of the project
Description - Description of the project
Start Date - Start Date of the project
End Date - End Date of the project
Status - Status of the project
Priority - Priority of the project
Customer - Customers will be pre-populated from the Opportunities app
Project Manager - Project Manager of the project
Tags - Tags associated with the project

Project Budget

Billing Method - Billing Method of the project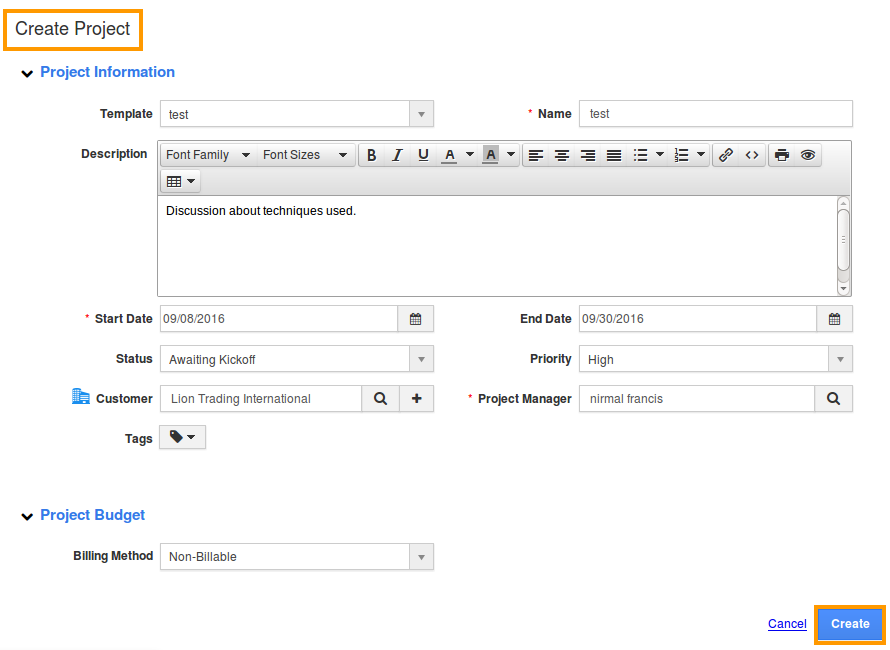 Click on "Create" button to complete.
The completed project is shown in image below:

Related Links
Flag Question
Please explain why you are flagging this content (spam, duplicate question, inappropriate language, etc):