Browse by Solutions
Browse by Solutions
How do I view receivables by payment method?
Updated on September 3, 2017 10:48PM by Admin
This Left navigation menu allows you to view Customer Payments by payment method. If you record the customer payment for invoices, you can view the payments respectively. When recording payments you may select different payment methods, this menu filters the Customer Payments based on their payment method.
Note: Check whether the payment methods are enabled Customer Payments Settings -> Payments method.
Steps to view Customer Payments by method
Log in and access Customer Payments App from your universal navigation menu bar.
Click on "By Method" from the Left navigation panel.

You can view the following methods:
All
Authorize.net
Cash
Check
PayPal
Credit note
Wire transfer
Zip mark
Stripe
Select any method from the above. For instance let's take "Cash".
Now, you can view all Customer payments in cash method.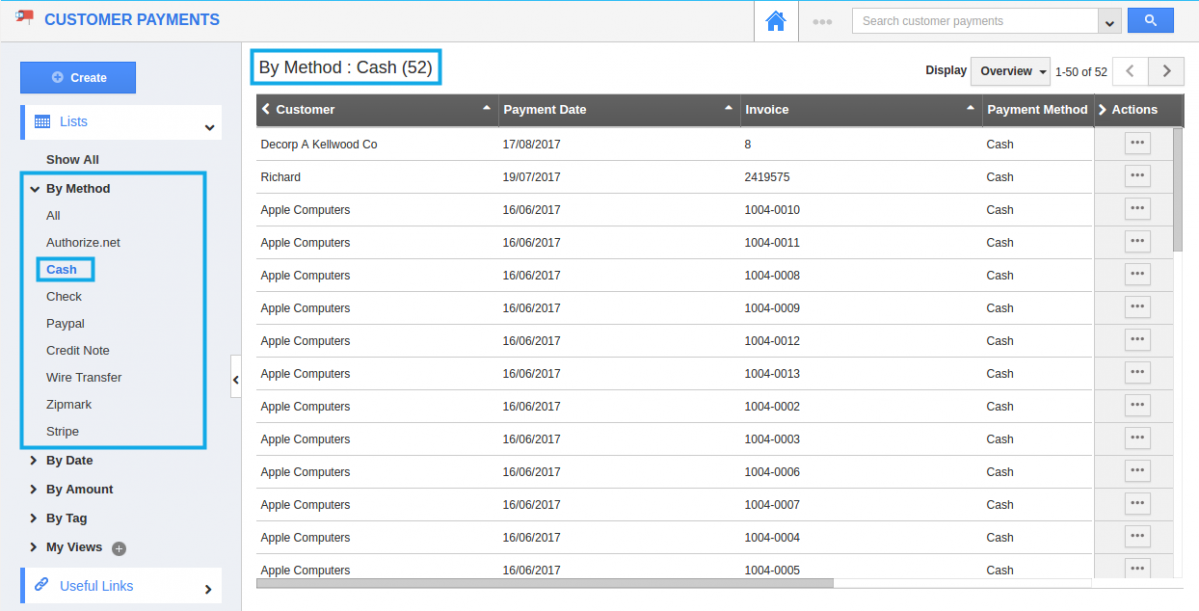 You can update or delete the Customer Payments information by clicking on "More details" icon.
Related Links
Read more about:
Flag Question
Please explain why you are flagging this content (spam, duplicate question, inappropriate language, etc):