Browse by Solutions
Browse by Solutions
How do I Generate Reports in Estimates App?
Updated on February 7, 2018 09:15PM by Admin
The Estimates App is a simple way to provide sales quotes to your customers. You can track sales opportunities, generate estimates, and also convert this estimate into an invoice or work order once completed.

Have a look at the following steps to understand better.
Steps to Generate Reports in Estimates App
Log in and access Estimates App from your universal navigation menu bar.
Click "Reports" from the App header bar.



You can view the "Reports" page in Estimates App.

Reports:
It provides a set of common built-in reports designed to get a summary of activities occurring in the app.
Various reports include: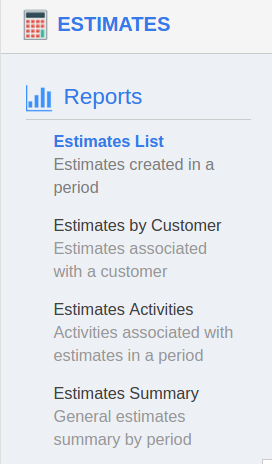 Related Links
Flag Question
Please explain why you are flagging this content (spam, duplicate question, inappropriate language, etc):