Browse by Solutions
Browse by Solutions
How do I generate activities report in work orders app?
Updated on June 12, 2019 07:55AM by Admin
Work order management excel | Activity report format | Work order formats
Work Orders App has many default reports. You can use one of the report formats to generate word orders activity report. The generated report can be used to analyze the activities regarding a specific work order.

You can view the work orders activity format report for a specified period using "the Work Orders Activities" option in the reports section.
Steps to Generate Work Orders Formats Activities Report
Log in and access Work Orders App from your universal navigation menu bar.
Click on "Reports" icon found in the app header bar.

Click "Work Orders Activities" option.

Provide the report attributes:
App - Select Work Orders app from the list.
Work Order # - Select the unique number of the work order.
Employee - Select the preferred employee from the list.
Activity Type - Select the type of activity for which you want to generate the report.
Start Date - Set the start date.
End Date - Set the end date.
Modified From - Set the modified from date.
Modified To - Set the modified to date.

Click on "View Report" button.
Now, you can view the various activities of the work orders. Click on "Export" button to download in excel format.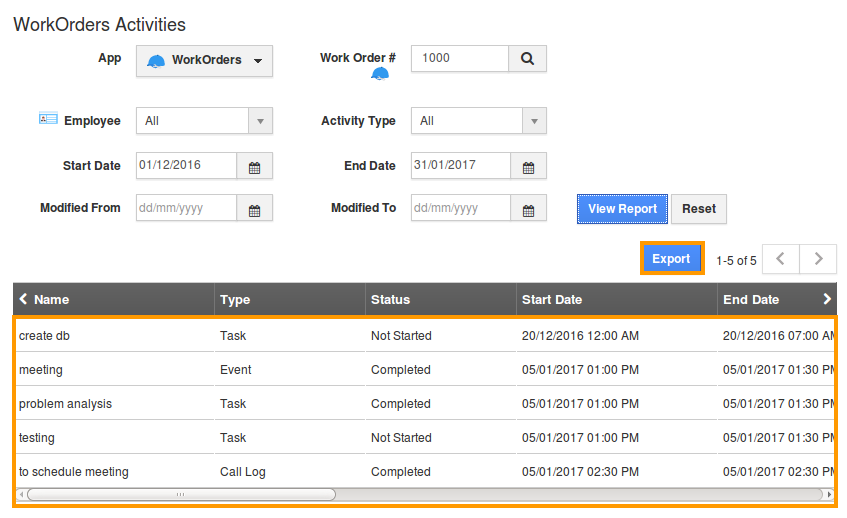 The Work orders activities are now viewed in excel format:


Related Links
Flag Question
Please explain why you are flagging this content (spam, duplicate question, inappropriate language, etc):