Browse by Solutions
Browse by Solutions
How do I edit an idea?
Updated on July 13, 2017 02:42AM by Admin
You can create the ideas related to your business using Ideas App. The created ideas can be viewed in "All" menu from you are allowed to edit it using "Edit" icon.
Steps to edit an idea
Log in and access Ideas App from your universal navigation menu bar.
Click on "All Ideas" from the left navigation panel.


Select an existing idea to update an information.
Click on "More Details" icon near the idea to be modified.


You can view "Overview" page in which you can modify all the attributes,
Title - Suitable title for an idea.
Business Potential - Potential Amount.
Item - Name of the Item.
Market - Name of the Market. Select an option from predefined list.
Segment - Name of the Segment. Select an option from predefined list.
Description - Description about an Idea.

Click on "Edit" button to make changes.
Click on "Save" button, to make the changes gets updated.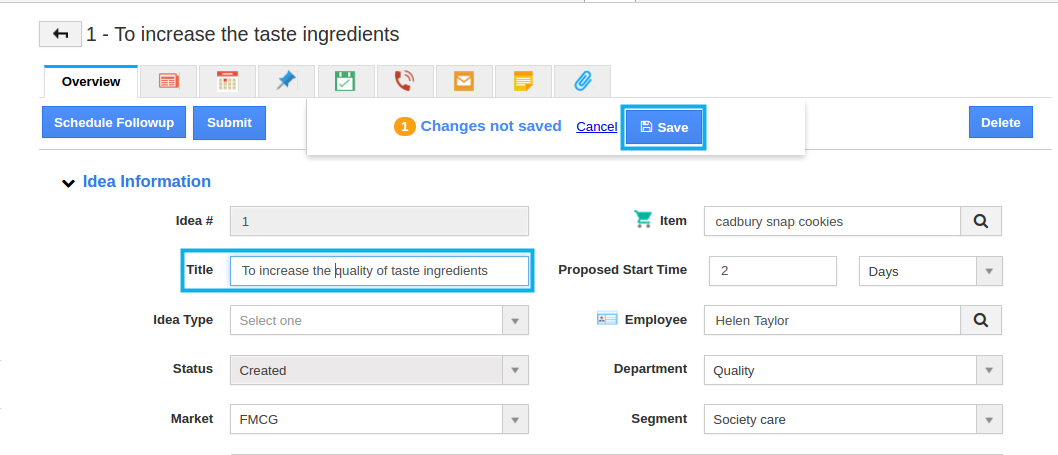 Related Links
Flag Question
Please explain why you are flagging this content (spam, duplicate question, inappropriate language, etc):