Browse by Solutions
Browse by Solutions
How Do I Create Contact Types in Contacts App?
Updated on September 10, 2017 10:50PM by Admin
When you are dealing with B2B customers, you need have to multiples contact details for the same customer. The reason is each contact within a B2B organization has a different designation and decision-making powers. Therefore, when you create the contact details for a contact, in the description box you have to be enter the contact type. Here the contact type denotes the status of his decision making power.

Let go through the steps.
Steps to create Contacts Types
Log in and access Contacts App from your universal navigation menu bar.

Click on "More" icon and select "Settings" located at the app header bar.

Select "Contacts" drop down. Click on "Contact Types" from the left navigation panel.

You can view all contact types in the dashboard.
Click on "Create" button and provide:
Name - Name of the contact type.
Description - Description about contact type.

Click on "Create" button to complete.
You can "Edit" or "Enable/Disable" a contact type in the dashboard.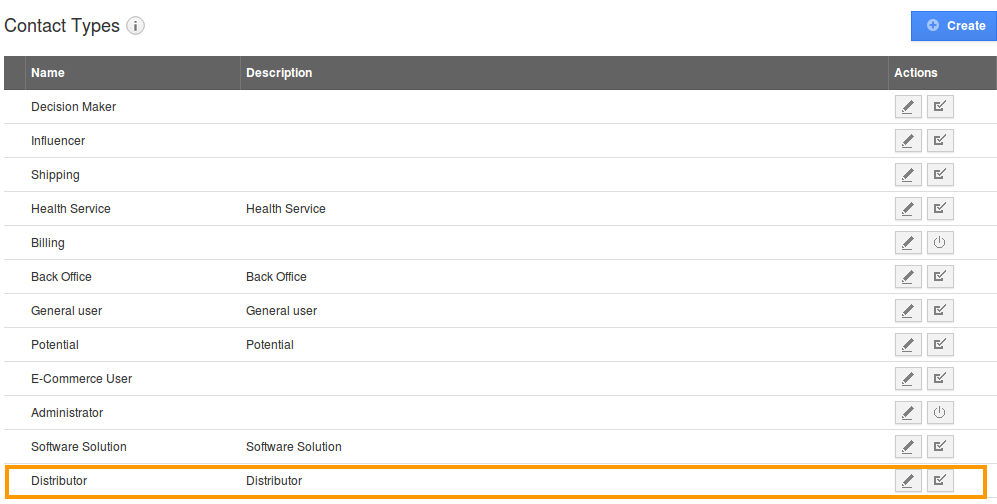 You can able to view the created "Contact Type" as shown in the image below:


Related Links
Flag Question
Please explain why you are flagging this content (spam, duplicate question, inappropriate language, etc):