Browse by Solutions
Browse by Solutions
How do I Edit Customer Information?
Updated on July 15, 2017 12:08AM by Admin
If your customers are B2B, at times the contact point would have been promoted to another department or left for greener pastures. In such circumstances, you may need to update the contact information of the customer. Similarly, if you are dealing with B2C customers and if the customer has changed to a new address or has a new telephone number, that too has to be updated.

In such situations the customer information needs to to edited. However, ensure that you give access privilege to the most trusted members of your team.

To edit the created customer information using "Edit" option. Once the information is edited it will be auto updated.
Steps to Edit Customer Information
Log in and access Customers App from your universal navigation menu bar.
Click on "Lists" drop down and select "Show All" from the left navigation panel.

You can view all customers in Show All dashboard.

Click on "More" icon to overview customer information.
You can view Customer overview page, in which you can modify:
Company Information
Additional Information
Address Information
Description
Social Information
Just place your "Cursor" in the field, which needs to be modified. For instance: "Customer #"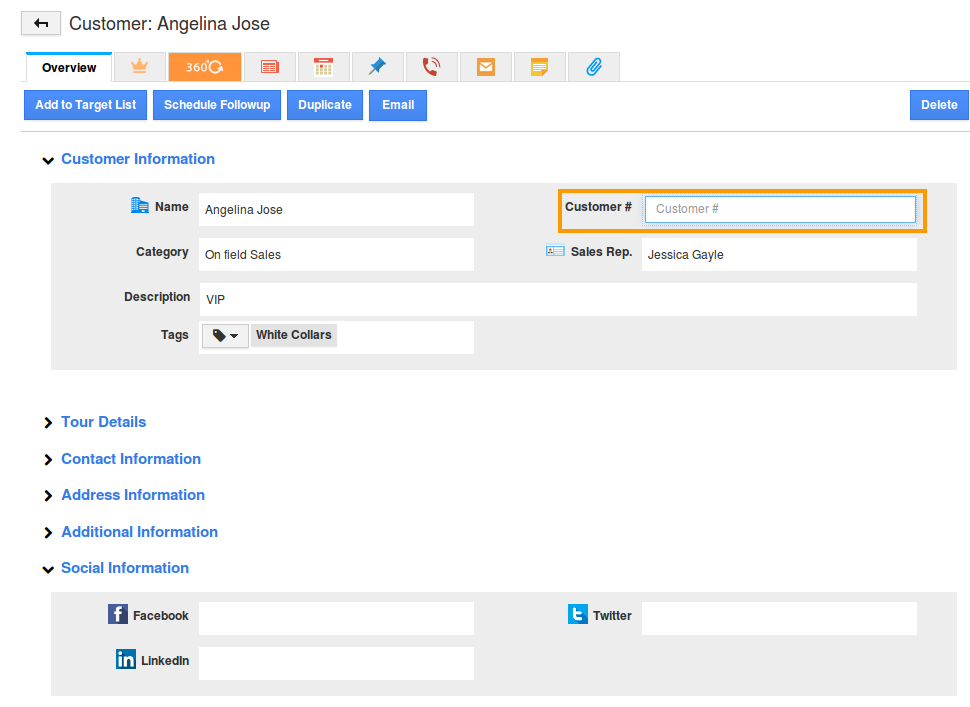 Your modifications in customer overview page gets automatically updated.
Related Links
Read more about:
Flag Question
Please explain why you are flagging this content (spam, duplicate question, inappropriate language, etc):