Browse by Solutions
Browse by Solutions
How do I customize the orders app?
Updated on October 21, 2017 01:58AM by Admin
Orders App Settings
Orders App settings are provided with meaningful defaults. You can customize them according to your requirements by configuring the App.
Log in and access Orders App from your universal navigation menu bar.
Click on "More -> Settings" icon located at the App header bar.

General
In General configuration, you have order number generation. You can auto generate or manually generate order numbers. If you need to auto generate, select "Yes" and provide "Prefix" and "Starts with" number.


Payment Terms
Payment term allows you to set customer payment periods. It may be immediate, 30 days or any custom length. You can select from one of the default values or create your own payment term to allow your customers to pay by clicking on "create" button.

Payment Methods
Payment methods provide you a set of standard payment outlets for your customer payments. Apart from that, you can add your own payment method if you would like by clicking "create" button. Default payment method comes with cash, check, PayPal, Authorize net, Google wallet, zip mark, wire transfer etc.


Taxes
If your products/services require you to charge tax, you can set up the tax codes here. You'll need to set up a tax code for every type of tax (sales, income, etc) as well as for every authority you must pay taxes to. Click on "Create" button to create new tax

E-Commerce
E-commerce - This setting determines how long items will remain in your website customer's shopping cart. During this period, users can leave the website, and their items will still remain in their cart.
Credit Card - This setting determines when your ecommerce customers will have their credit cards charged. Create will charge the card upon submission, and the other options will charge the card when an employee picks, pick releases, or ships the order.
Account Options - This setting determines whether a user must provide an email address in order to register for an account and place and order on your website.

Shipping Parameters
These settings control thresholds for special shipping services, such as combining shipping costs for multiple items, or defining a dollar value for when insurance or a recipient signature are required for delivery.


General - Provide zip code to be used as the source of products, when determining shipping costs to the customer destination.
Shipping Fee – It allows you to set a flat fee for all shipments, an auto-calculated shipping fee based on configuration, or allowing the user to select a method from your available shipping methods.
Handling Fee – It allows you to set a flat handling fee for the entire order, or you can have a fee which is multiplied for every line on the order.
Shipping Methods
In shipping methods you can add, following options:
Provider Shipping Methods
This is a list of shipping methods made available through third party providers. These can be linked directly to the provider API to receive real-time shipping quotes, or you can manually define the costs here. By default, App provides a list of common US shipping methods.
Self Shipping Method
Here you can define your own shipping methods, which are not related to a specific provider. Define your own description, and costs involved for each shipping method.
PDF Templates
Orders App allows you to create your own custom templates which will be used to generate PDF versions of your orders. Click on "Create" button to create new PDF template.
Message Templates
Message Templates allow you to set up predefined messages. These are customized email messages that you can send to your customers. Message templates can be used with any email sent from orders app.

Custom Attributes
Custom attributes are fields that are unique to your business only. They can be quickly and easily added for customization. You can add custom fields in the creation page by default. You can add new sections and fill them up with your own text fields, radio buttons, drop downs, etc.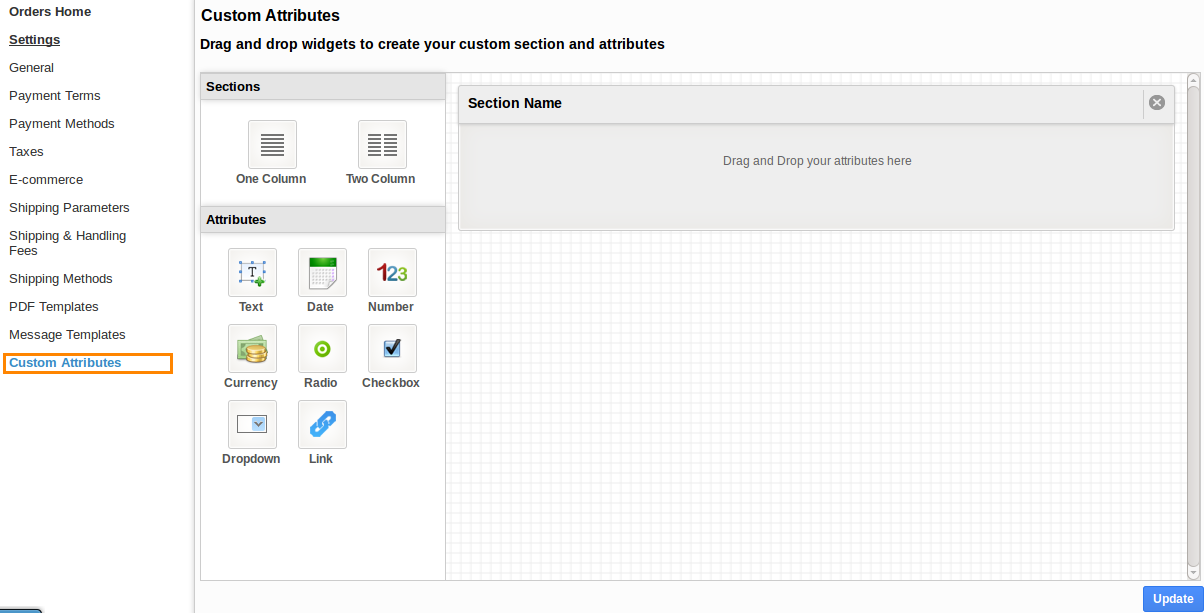 Related Links
Read more about:
Flag Question
Please explain why you are flagging this content (spam, duplicate question, inappropriate language, etc):