Browse by Solutions
Browse by Solutions
How Do I Customize Reports in Contacts App?
Updated on September 1, 2017 12:15AM by Admin
Creating reports is a great way to stay in touch with what is happening in the business front. A report is generated to keep track of how much time is spent on the various customer activities, whether the team is meeting their given targets and daily, weekly, monthly goals and so on.

Now as a user of Apptivo CRM, you can configure the report setting in order to hide or show your reports. You can also give access privileges to your employee for reports.

Lets take a quick look at the following steps.
Steps to Customize Reports
Log in and access Contacts App from your universal navigation menu bar.

Click on "More" icon and select "Settings" located at the app header bar.

Select "General" drop down. Click on "Reports" from the left navigation panel.

You can view "General Reports" and "Charts".
By default, all reports will be in "Enable" Status.
You can hide report by sliding the "Toggle" button to disable it.
For Instance:
We have hidden "Activities Report" from "General Reports".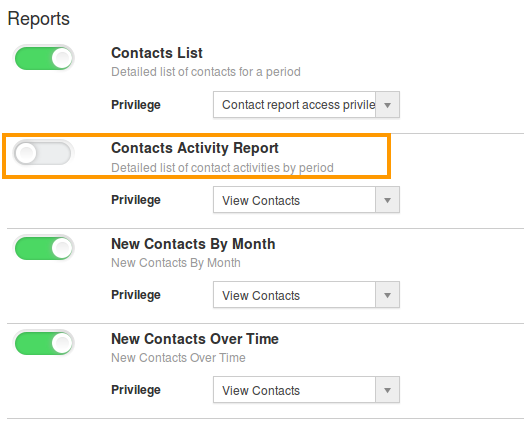 In Contacts App Reports, you cannot view "Activities Report" (Due to "Hide" enabled in report setting) as shown in the image below:


Related Links
Flag Question
Please explain why you are flagging this content (spam, duplicate question, inappropriate language, etc):