Browse by Solutions
Browse by Solutions
How do I Generate Inflow Trend of Cases Report?
Updated on December 28, 2017 05:41AM by Admin
Cases app has in-built default standard reports. You can choose one of the report formats to generate Inflow Trend of Cases report. This report displays the details of the cases opened in the selected period.

The following steps will help in generating the reports.
Steps to Generate Inflow Trend of Cases
Log in and access Cases app from your universal navigation menu bar.
Click on "Reports" icon located at the app header bar.

Click on "Inflow Trend of Cases" from "Charts" in the left navigation panel.

You can view Inflow Trend of Cases chart in the dashboard.
Click on "Filter" icon and provide the following details:
Customer - Enter the name of the customer.
Assigned to - Enter the name of the person to whom the case gets assigned.
Priority - Select the priority.
Click on particular "Month and Year" tab to view case report details in the dashboard.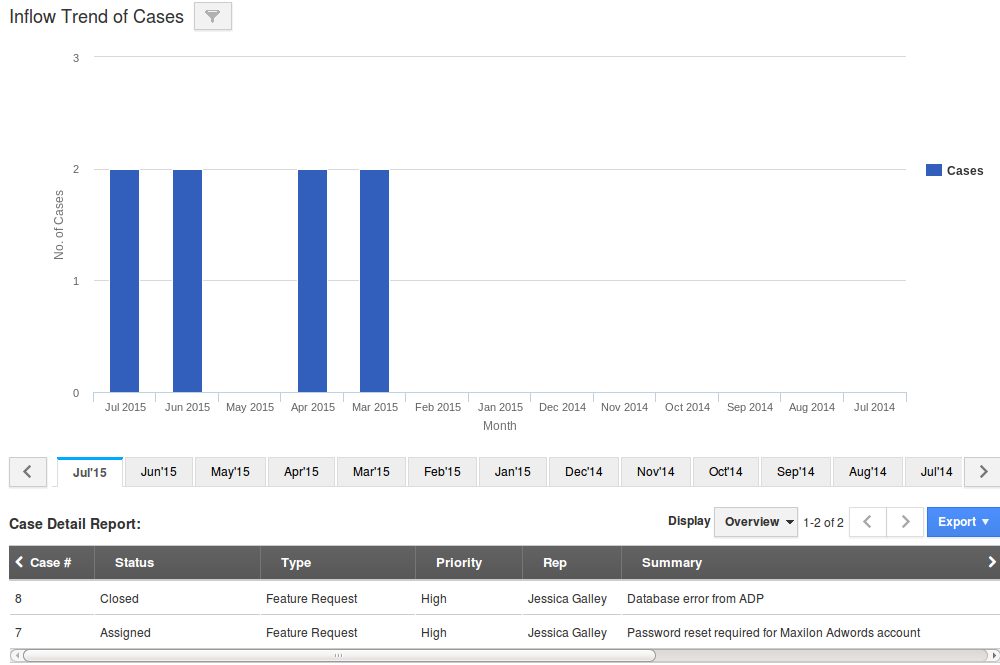 Click on "Export" button to view reports in spreadsheet format.



Related Links
Flag Question
Please explain why you are flagging this content (spam, duplicate question, inappropriate language, etc):