Browse by Solutions
Browse by Solutions
How do I Customize Payment Method in Invoices App?
Updated on April 18, 2018 10:25PM by Admin
Invoices App payment methods provide you a set of standard payment gateways for your customer payments. Apart from that, you can add your own payment method if you would like.
Steps to Customize Payment methods in Invoices
Log in and access Invoices App from your universal navigation menu bar.
Click on "More" icon "Settings" icon located at the app header bar.

Click on "Payments" drop down and select "Payment Methods" from left navigation panel.

Default payment methods come with cash, check, PayPal, Authorize.net, Zip mark, and credit note.
Click on "Create" button to add more payment method and specify:
Name - Name of the payment method.
Description - Description about the payment method.
Upload Logo - Logo for creating payment method.

Click on "Create" button to complete.
By default the created payment method will be in enabled mode.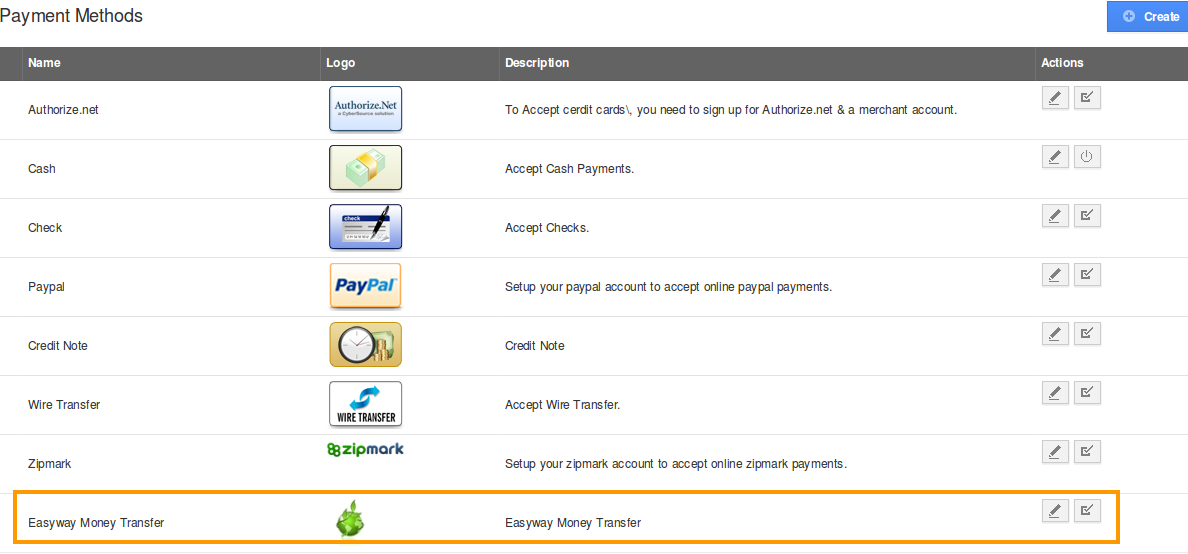 You can also update payment method information by clicking on "Edit" icon, if needed.
Note: The payment methods created, enabled, disabled or modified will also reflect in "Receivables App".

Related Links
Flag Question
Please explain why you are flagging this content (spam, duplicate question, inappropriate language, etc):