Browse by Solutions
Browse by Solutions
How do I Add Quick Links in Opportunities App?
Updated on November 21, 2017 11:15PM by Admin
Quick links or Quicklinks are unstructured links that are placed in a prominent place on a web page. The number of links depends on the number of features your application has.
The advantages of having quick links include
Easy to to navigate to other pages or applications
Attracts quick attention to a set of important links
By default quick links in opportunities home page contain several links which guides you to different apps. You can also add your own quick links by customizing settings.
To add your set of quick links follow the steps given below.
Steps to Add Quick Links
Log in and access Opportunities App from your universal navigation menu bar.

Click on "More" icon and select "Settings" located at the app header bar.

Select "General" drop down.Click on "Quick Links" from left navigation panel.

Click on "Add" button to add new quick links and specify:
Name
URL

Click on "Create" button to complete.
You can update the quick link information by clicking on "Edit" icon, if needed.


You are allowed to delete the created quick links also.
You can view quick links in opportunities home page as shown in the image below: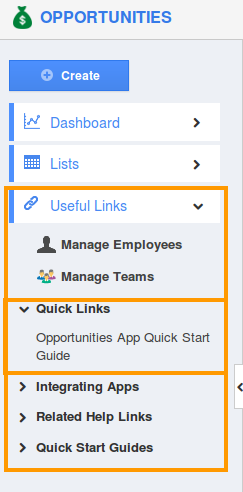 Related Links
Flag Question
Please explain why you are flagging this content (spam, duplicate question, inappropriate language, etc):