Browse by Solutions
Browse by Solutions
How do I generate opportunities lost by month/sales rep report?
Updated on November 9, 2017 11:15PM by Admin
Reports are an integral part of any CRM. They give an insight into how well the sales personnel is handling the opportunities. There are different types of reports that you can generate in CRM to help you analyse the data, understand which person, or team is doing well and so on. Using the reports you can create strategies to handle the future potential customers as well as the existing ones in an efficient way so as to close the deals.

Opportunities App allows you to view Reports as per your requirement. You can view the Opportunities Lost by Month and also by sales rep using "Opportunities Lost by Month / Sales Rep" option."
Steps to generate Opportunities Lost by Month/Sales Rep Report
Log in and access Opportunities App from your universal navigation menu bar.
Click on "Reports" icon located at the app header bar.

Click on "Opportunities Lost by Month/ Sales Rep Report" from left navigation panel.

Click on "Filter" option & Provide the following information:
Y axis – Value or count.

Value - You can view Amount in Y axis.
Count - You can view the Count in Y axis.(i.e. Number of opportunities Lost for month).

Assignee – Select an employee.
Start Date – Start date.
End Date – End date.
Click on "View Report" button to view report for opportunities lost by month/sales rep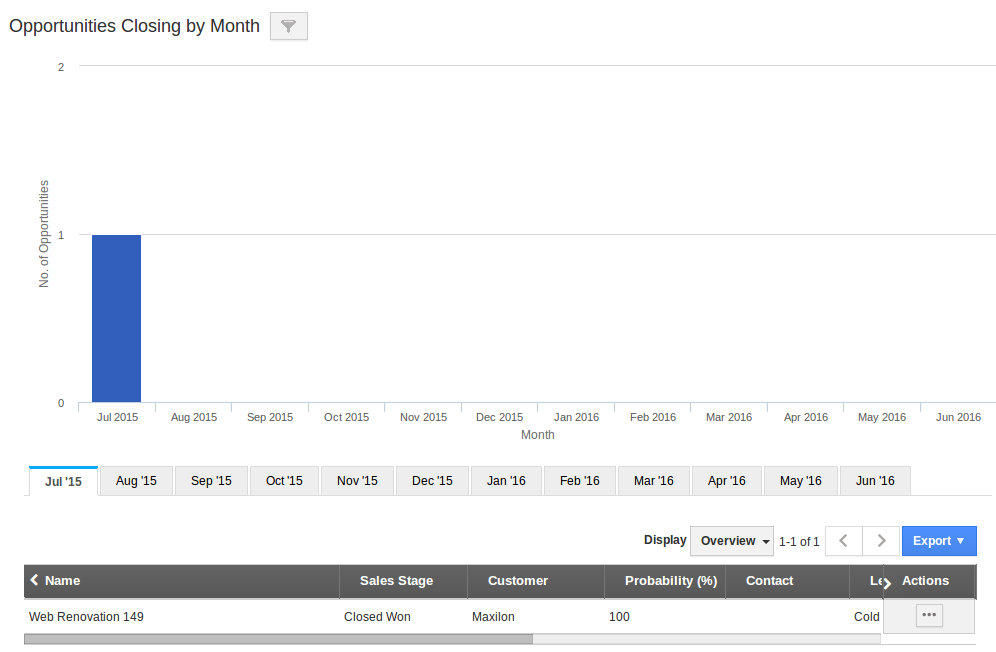 Click on "Reset" button to cancel.
Related Links
Read more about:
Flag Question
Please explain why you are flagging this content (spam, duplicate question, inappropriate language, etc):