Browse by Solutions
Browse by Solutions
How do I hide a particular Sales Stage of Opportunities?
Updated on June 4, 2018 05:25AM by Admin
Opportunities App allows you to view all your opportunities along with their sales stages and statuses. Apptivo gives you the ability to hide the opportunities of a particular sales stage from the Show All dashboard. In order to hide a particular opportunity, all you need to do is customize the Settings.

For Instance: Consider you have 100 opportunities assigned to you.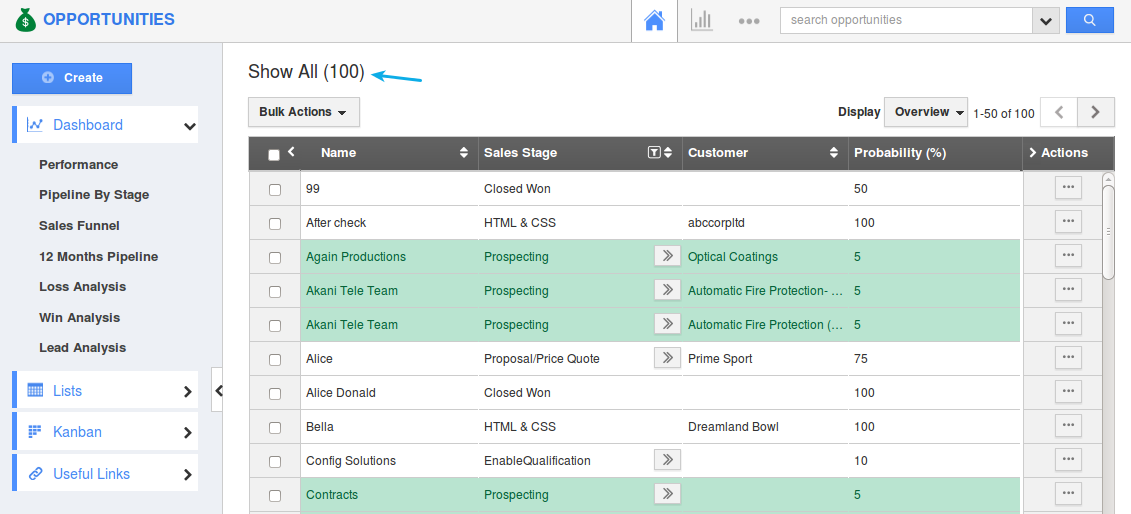 As the deals are successfully closed, consider, you would now prefer not view those opportunities, that are in the Sales Stage of Closed Won. Now, this can be done by sliding off the Visibility toggle of that particular sales stage.

Go through the steps below to hide a particular sales stage.
Steps to Hide a Sales Stage
Log in and access the Opportunities App from your universal navigation menu bar.
Click on "More (...)" icon and select "Settings" icon located at the app header bar.

Select "Opportunities" drop down. Click on "Sales Stages" from the left navigation panel.
By default, all your sales stages will be in "Active "or " Enabled " mode.
Now, locate and select the sales stage (Closed Won), which you would like to hide.
Slide the Visibility toggle OFF, to inactive the status.

The changes made will be automatically saved.
Now, go to the Show All page. You cannot view the opportunities of the closed won stage in Show All and in Recent Opportunities menu. You can also view the opportunities count in Show All being reduced.

Note
Hiding the opportunities of a particular sales stage will only restrict you in viewing those opportunities from the "Show All" page. You can anytime view the disabled Closed Won opportunities using the following options:
Flag Question
Please explain why you are flagging this content (spam, duplicate question, inappropriate language, etc):