Browse by Solutions
Browse by Solutions
How do I Add Leads into Contact?
Updated on May 18, 2017 03:10AM by Admin
Leads are information that are gathered when a prospect makes an inbound call regarding the service/product or during a marketing campaign.

Once the details are collected they need to be managed and followed-up in timely fashion until they qualify into prospective customer. To manage the leads you need to store the details in the record format in the database. This can be done two ways. They are


You can add leads or create leads in contact view page.
When converting lead into contact, automatically the lead will be associated with contact.
Steps to Associate Leads Manually
Log in and access Contacts App from your universal navigation menu bar.
Create a new contact or select existing contact.

Click on "Add" button in "Leads" section to add leads into contact.

Search and select leads that you would like to add for contact.

You can view the added leads as shown in the image below:

You can also create a new lead using "Create" button and associate them into contact.
Convert Lead into Contact
When you convert lead into contact,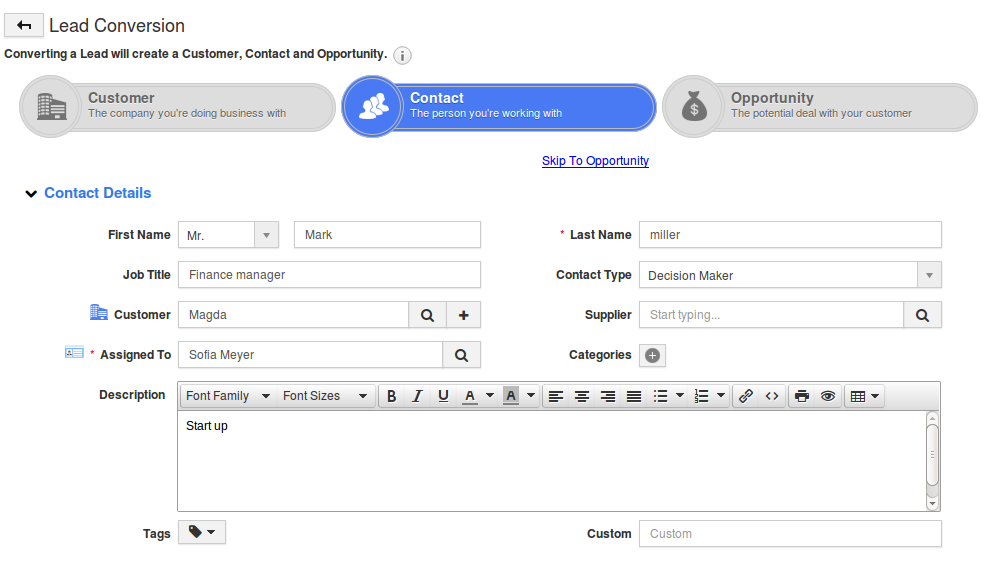 Related Links
Flag Question
Please explain why you are flagging this content (spam, duplicate question, inappropriate language, etc):