Browse by Solutions
Browse by Solutions
How do I add bank account transfer details on an invoice?
Updated on April 30, 2018 11:05PM by Admin
If you are using bank transfer/Ner Banking as your payment method, you can upload your bank logo and enter your description. Disable all other payment methods using "Blue tick mark" icon found against each payment method. Lets walk quickly through the following steps to understand better.
Steps to Set Up Bank Account Details
Log in and access Invoices App from your universal navigation menu bar.
Click on "More" icon and select "Settings" located at the app header bar.

Click on "Payment Methods" from "Payments" drop down from left navigation panel.

Click on "Edit"icon which is against "Wire Transfer", upload logo using "Upload"button.

In the "Description" field, enter bank account details as shown in the image below: (Note: Sample data entered in the description field).

Click on "Update" to update the information added. You can view the updated payment method as shown in the image below:

Disable other payment methods using blue tickicon.
How Does The Customer View Bank Details?
When you create invoice and send to customer, the customer will receive an email notification with invoice link. At once he click the link given in the email, he can view bank details at the bottom of invoice PDF.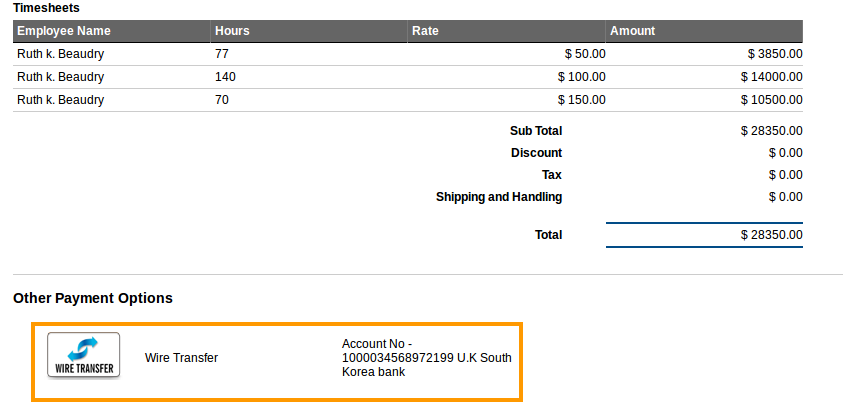 Related Links
Flag Question
Please explain why you are flagging this content (spam, duplicate question, inappropriate language, etc):