Browse by Solutions
Browse by Solutions
How to enable contacts sharing option to sync contacts?
Updated on August 23, 2017 10:20PM by Admin
Install app from G Suite marketplace
Before enabling contact sharing make sure to install an app. Go to Apptivo Contacts Sharing App in the G Suite Marketplace and click on "Install App" button.

Have a look at the steps given below to enable contact sharing option.
Steps to Enable contact sharing
Log in via Google "More" menu, access Contacts App.
Click on "More" icon and select "Settings" located at the app header bar.

Click on "G Suite Integration" from the left navigation panel.
Toggle ON the button "Enable contact sharing". Click on "Update" button.

To Refresh your Contacts List
If your contact list won't load after you update your contacts, refresh the "Contact Sharing Jobs" in the left corner. Click on "Refresh" button to refresh your contacts groups.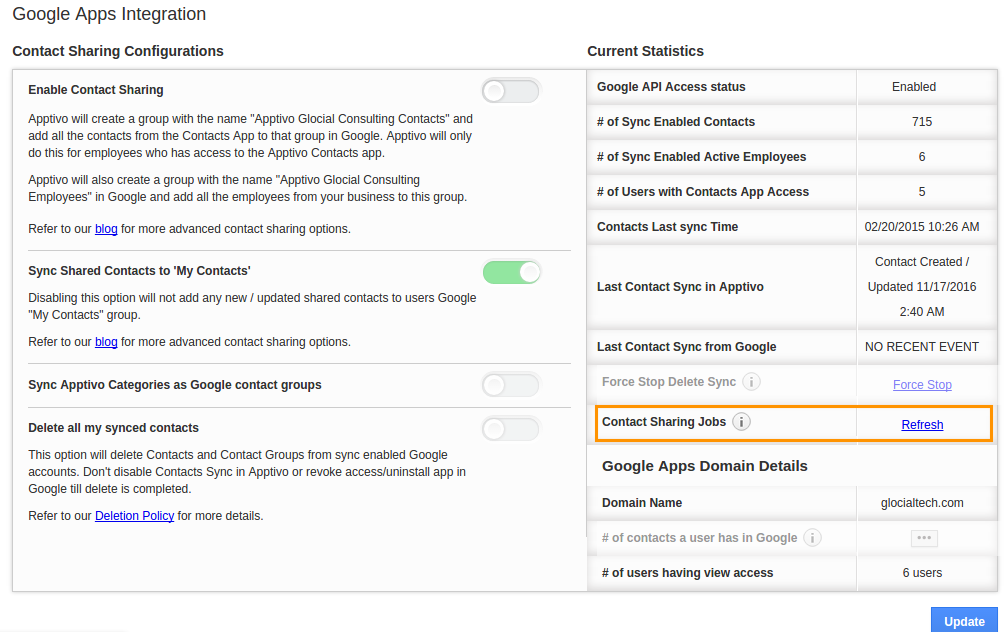 Flag Question
Please explain why you are flagging this content (spam, duplicate question, inappropriate language, etc):