Browse by Solutions
Browse by Solutions
How do I check the email quota allowed for my business?
Updated on June 2, 2017 05:42AM by Admin
The Campaigns Email quota is used to check the availability of emails in your account. The allocation of the email quota is based on the subscription of your plan. You can easily track your current quota, purchased quota, used emails and remaining emails from your account.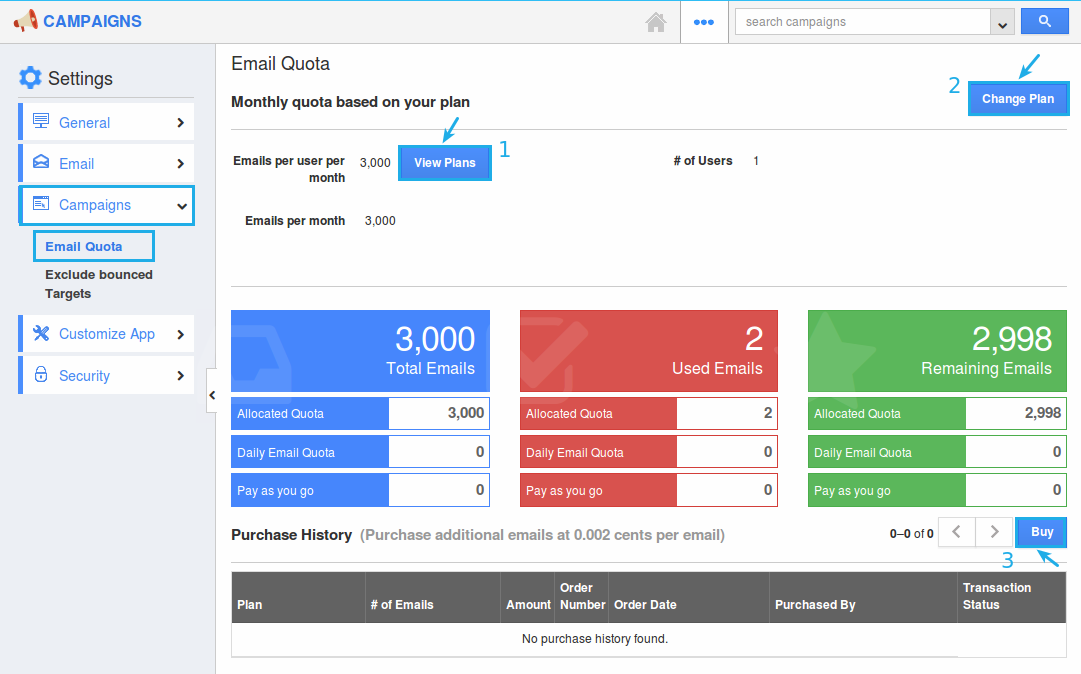 Besides tracking the email availability and checking the purchase history, this lets you to do the following:
View Plans - This will direct you to the pricing page of Apptivo, from where you can view the various plans and their features.
Change Plan - This lets you change (upgrade or downgrade) from your current plan.
Buy - Using this, you can buy additional emails on the go (monthly, yearly or daily basis). This supports sending emails on the daily usage basis. On clicking it, the "Buy additional emails" popup will be displayed:

Daily Email Quota - This allows you to subscribe on monthly or yearly basis. Select the required quota and click on "Checkout".

Pay as you go - This allows you to purchase emails that never expire. (Note: minimum order quantity will be 5000).

Monthly quota based on your plan - This displays the information like Email per user per, # of users & Emails per month.
Total Available Emails - Current Quota, Purchased Quota, Used Emails & Remaining Emails will be displayed here.
Purchase History - In this line level section, you can view the overall details regarding the amount paid for campaign emails along with their order number and transaction status.
Note: When you Pay as you go, the minimum order quantity will be 5000 Emails for $10 (with $2/1000 Emails). And Emails bought on a daily basis, will expire each day. It will not be rolled over.
For instance: Consider a Customer having 5 users with 1000 emails per user initially. Now, they would like to increase the count of email from 1000 to 2000 per user, for a total of 10000. So to increase the quota from 5000 to 10000, they need to pay an extra $2 per user per month.
Steps to Buy Email Quota for Your Business
Log in and access Campaigns App from your universal navigation menu bar.
Click on "More (...)" icon -> "settings" -> "Campaigns" -> "Email Quota".

In the Email Quota page, click on the "Buy" button.
The "Buy additional emails" pop up will be displayed. Click on the "Pay as you go".
Enter the # of Emails and click on "Checkout".

Now, enter the credit card details and click on "Make Payment".
Thus, additional emails will be purchased successfully.
Related Links
Flag Question
Please explain why you are flagging this content (spam, duplicate question, inappropriate language, etc):