Browse by Solutions
Browse by Solutions
How do I create quick campaign?
Updated on October 14, 2016 05:43AM by Admin
Creating quick campaigns allows you to quickly launch the campaign emails to the contacts or targets without creating or grouping contacts into a target list. It is a direct method of sending campaign emails. It also allows to perform more than one action such as a emailing and create campaigns simultaneously.
A quick campaign is the single campaign activity geared towards the targeted Contacts. Before creating quick campaign, make sure to build appropriate email template.
To Create Quick Campaigns
Login and access Campaigns App from your universal navigation menu bar.
Click on "Create" button and select "Quick Campaigns" from left navigation panel.

You can view two sections: Campaign Information, Target Details.
Campaign Information - Fill out the information in Campaign information. This will typically include Name, Description, Start Date, End Date and Tags for the campaign.
Target Details - Add information about the targets listed below:

To - Start typing the contact name or email address, as it auto populates the field with existing contact records.
From - Select the from address.
Template - Select the templates which you need to add.
Subject - Subject of the Campaign.
Message - Include the message content for Campaigns.
Attachments - You can also include the attachments from Computer, Google Drive, Dropbox and Onedrive.

Click on "Create", when you're done.
After creating the quick campaign, you will be navigated to the detailed view page from where you can access launching dashboard.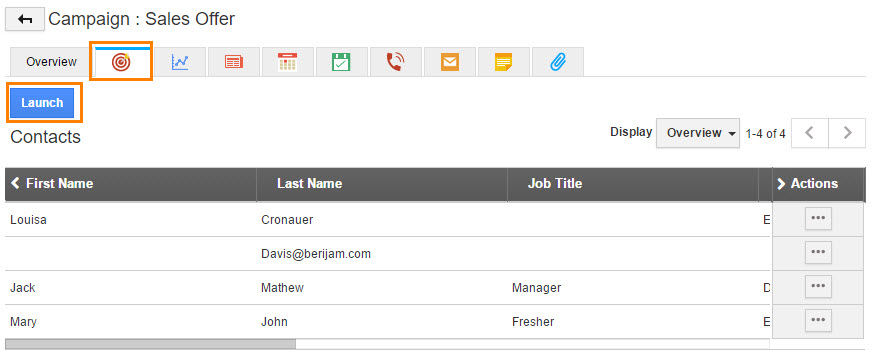 Click on "Targets icon" tab and click on "Launch" button.
It will launch the email to the listed contacts as shown in the image below:
You can view the status of the email in communication dashboard.


You can also view the email delivered to the contact records. Click on the arrow in "Delivered" details.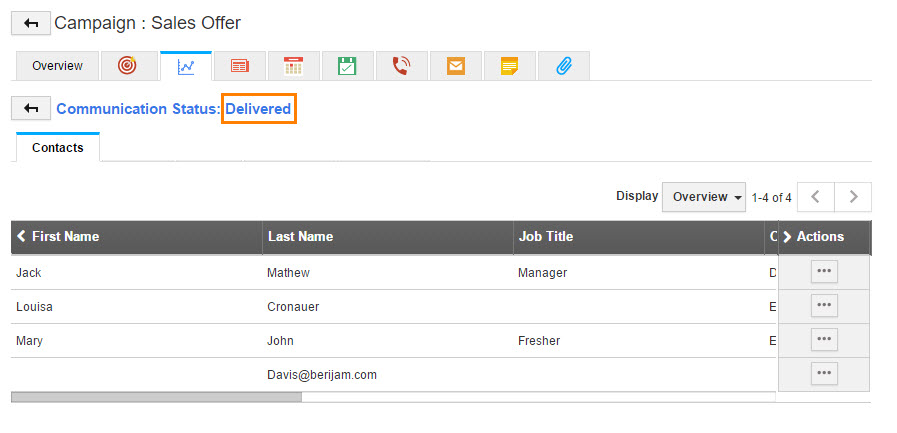 Related Links
Flag Question
Please explain why you are flagging this content (spam, duplicate question, inappropriate language, etc):