Browse by Solutions
Browse by Solutions
How do I Customize Default Home Page View in Items App?
Updated on November 29, 2016 10:17PM by Admin
Default home page view in items app allows you to change the view of your home page.
Steps to Customize Default Home Page View in Items App
Log in and access Items App from your universal navigation menu bar.
Click on "More" icon and select "Settings" located at the app header bar.

Click on "Views" from Customize drop down in the left navigation panel.

You can view "Default Home Page View".
You can change default home page view by selecting any one among the following:
Items Home – Displays default Items home page with news feed and recent items.
Show All – Displays all items.
By Queue - Displays items by queue.
By Directory – Displays items by directory.
By Category – Displays items of different categories.
By default you can view "Items Home" page view.
You can set your own custom home page. For instance:Show All.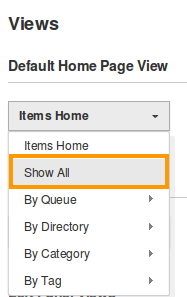 You can view default home page "Show All" as shown in the image below:



Related Links
Flag Question
Please explain why you are flagging this content (spam, duplicate question, inappropriate language, etc):