Browse by Solutions
Browse by Solutions
How do I Create Custom Attributes in Ledger App?
Updated on January 24, 2017 09:13PM by Admin
Custom Attributes are nothing but the fields which are in unique on your ledgers app that can be created, modified and customized. You will also find the attributes of different data types such as text, numbers, date, currency etc.
Master Layout in ledger app allows you to add up the custom fields as per your requirement. You can add any custom fields, that aren't provided in the creation page by default.
Steps to Customize Master Layout Attributes
Log in and access Ledger App from universal navigation menu bar.
Click on "More (...)" icon and select "Settings" located in the app header bar.

Select "Master Layout" under "Customize App" drop down found in the left navigation panel.
Under Master Layout, there are three sections present:

Journal - Journal creation page can be customized.
Journal Batches - The creation page of Journal Batches can be customized.
Accounts - Accounts creation page can be customized.

For instance: Click on "Journal" option.

Note: if you are a standard plan user, then you need to upgrade your account to use this master layout feature. It would be notified as below:

Choose the section under "Palette" tab. You can customize with one or two column section.
Drag and drop your own custom attributes into the section.
Rename the attribute by clicking on "Inspector" tab. A popup will appear to rename and update the attributes.

For instance: Here, adding the "Two Column" section and insert a "Textbox" attribute as shown in the image. From "Inspector" tab, you can rename your custom attribute.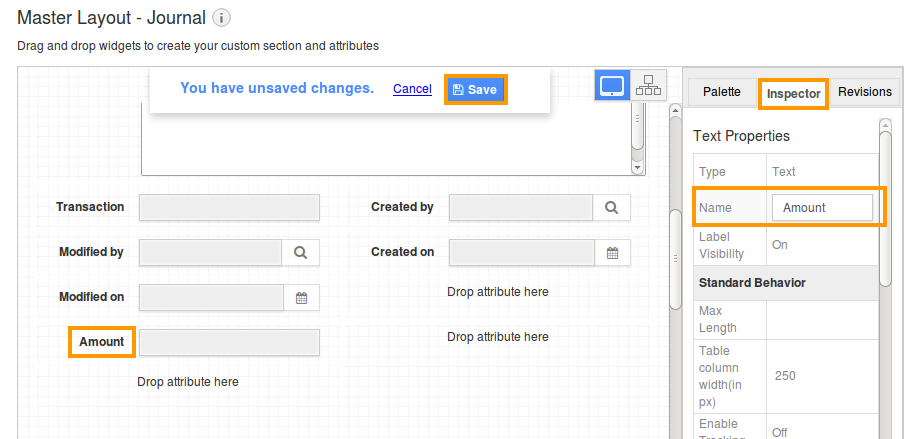 Related Links
Flag Question
Please explain why you are flagging this content (spam, duplicate question, inappropriate language, etc):