Browse by Solutions
Browse by Solutions
How do I remove the Footer Section in Print/web Layouts in the Invoice App?
Updated on February 21, 2017 02:36AM by Admin
While sending invoices to your clients, if you do not want to show the Apptivo brand (Generated by Apptivo) to be visible to your clients, then you are able to hide that from the configuration area. There is a separate option which allows you to hide its visibility.
For instance: Consider an employee (Katie Dustin) under the business "American Daydreams". So while sending invoices to his clients, he would like to hide the "Generated By Apptivo" in the footer section.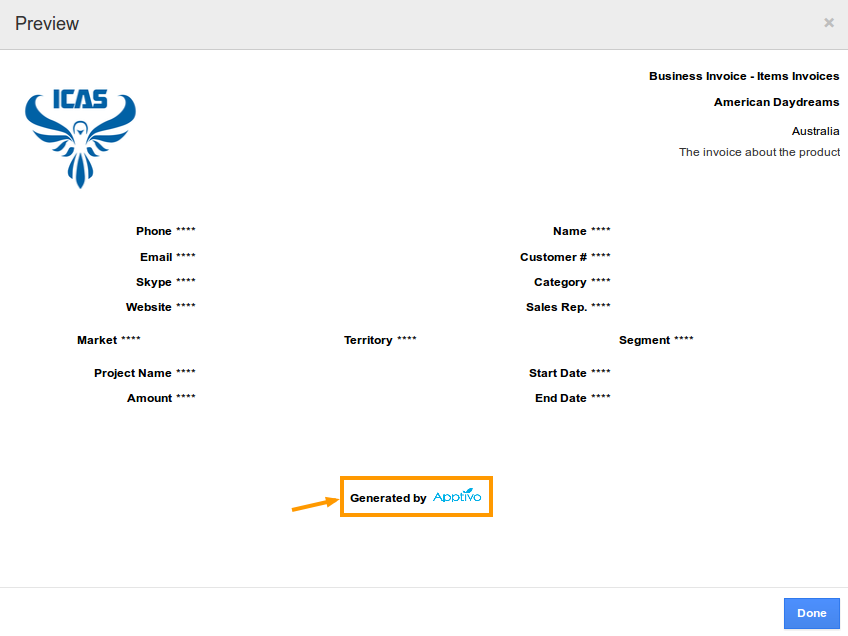 Steps to Remove the Apptivo Brand
Access Invoices App.
Click on "More (...)" -> "Settings" -> "Customize App" -> "Print/Web Layouts".

Select the required layout. Click on the "Footer Section".
In the "Inspector" tab toggle OFF the "Visibility". Click on "Save".

Now, click on "Preview".

Thus, while sending invoices the Generated By Apptivo in the footer section will not be visible.

Related Links
Flag Question
Please explain why you are flagging this content (spam, duplicate question, inappropriate language, etc):