Browse by Solutions
Browse by Solutions
How Do I Customize Collaboration in the Insurance Tracker App?
Updated on May 29, 2017 08:56PM by Admin
Insurance Tracker App allows you to configure the collaboration in your own way. This will secure the common activities tabs in each object, based on the access privilege.
For instance: Consider an employee who does not want to view "Calendar" in the Insurance Tracker overview page. Then, this can be done with customizing the Collaboration settings.

Steps to Configure Collaboration
Go to the Insurance Tracker App from app header bar.
Click on "More(...)" icon -> "Settings".




Choose "Collaboration" option from the "General" drop-down in the left navigation panel.




Now, you can view the following associated objects in the Collaboration dashboard.
News Feed
Calendar
Follow Ups
Tasks
Call Logs
Emails
Notes
Documents
By default, all associated objects will be toggled on (Show status).
To hide the particular object, say "Calendar", you can toggle off by sliding the button.


Now, you cannot view the "Calendar" object in the Insurance Tracker App overview page since it is hidden.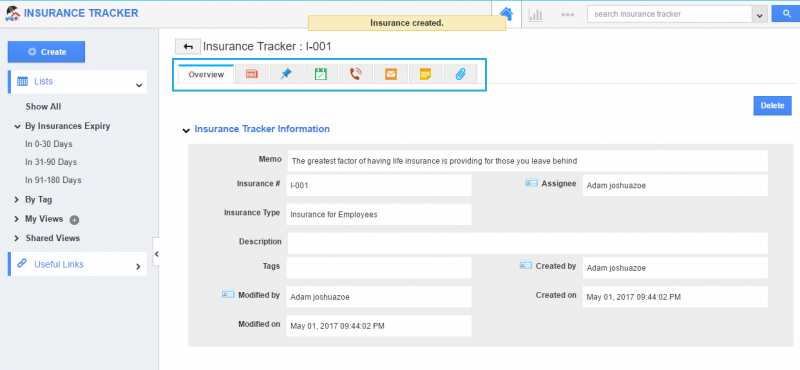 You can also edit the name of the associated objects according to your preference using "Edit" icon.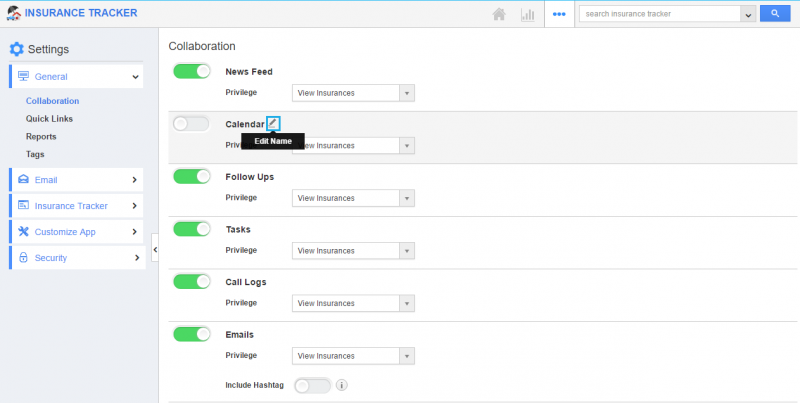 Note : The users in your account cannot view the objects that you toggled off. In order to enable access for specific users, you should provide them the privileges. Refer this link to provide privilege : https://www.apptivo.com/answers/questions/12315/how-do-i-create-privilege-for-associated-information-and-give-access-to-my-employee
Related Links
Flag Question
Please explain why you are flagging this content (spam, duplicate question, inappropriate language, etc):