Browse by Solutions
Browse by Solutions
How do I Customize Left Menu in the Projects App?
Updated on June 2, 2017 01:59AM by Admin
Left Menu toggle helps the authorized user to "Show/Hide" the left navigation panel from the project creation page.
In the below snapshot you can view the project overview page with Left Menu.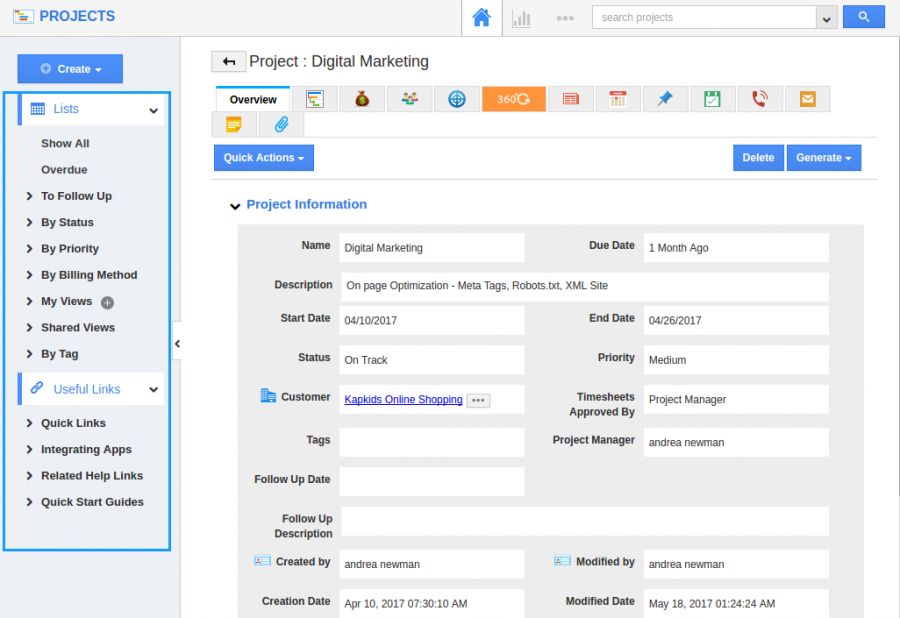 For Instance: A Project Manager does not wants to view the "Left Menu" in their project creation page. Then the below steps to be followed.
Steps to Customize Left Menu
Go to "Projects App" from universal navigation menu bar.
Click on "More(...)" icon and choose "Settings".

Click on "General Tab" and select "Left Menu" from the left navigation panel and "Enable" the toggle button. Now the Left Menu is updated as shown in the snapshot.

Now go to "Projects App" dashboard and open any project. Now you cannot view the "Left Menu" in a overview of a project as shown below the snapshot.

Related Links
Flag Question
Please explain why you are flagging this content (spam, duplicate question, inappropriate language, etc):