Browse by Solutions
Browse by Solutions
How do I Create Quick Links in the Recruitment App?
Updated on June 11, 2017 10:33PM by Admin
Quick links is a feature which is similar to a shortcut link that guides you for reference. You can add your own quick links by customizing the settings. It can be accessed immediately within the app for reference.
The final view of the created Quick Links depends upon the type you selected.
Link : The created Quick Link will redirect you to the mentioned Url.
Pop-up : The created Quick Link will display a pop-up.
For instance: Say, an HR Manager wants to know the details of the recruitment process going on in his company in ease without spending much time. In this scenario, quick links helps the HR Manager.
Steps to Add Quick Links
Go to Recruitment App from the app header bar.
Click on "More (...)" icon -> "Settings" -> "General" -> "Quick Links".




Select the "Add" button to add a quick link and fill out the required details.
Name : Specify the name related to the Url you are about to give.
Type : Pop-up or link. (Say, here-> Link)
Url : Link to which you want to refer.




Click on the "Create" button.



You can update the quick link information using the "Edit" icon and you can also delete using "Delete" icon.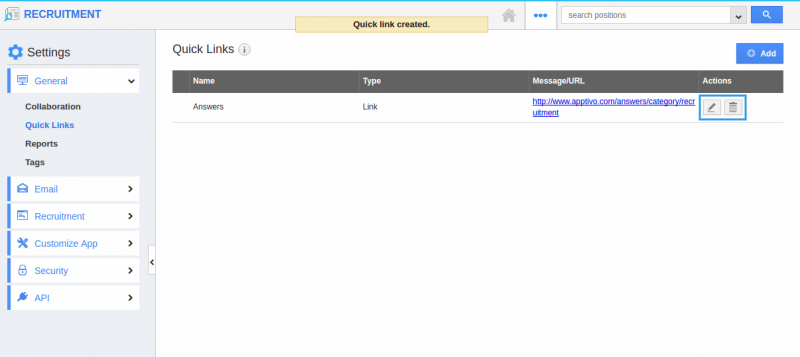 The created Quick Links appear in the left navigation panel of the Recruitment App homepage.



Related Links
Flag Question
Please explain why you are flagging this content (spam, duplicate question, inappropriate language, etc):