Browse by Solutions
Browse by Solutions
How do I Create Backorders in Apptivo?
Updated on January 24, 2018 05:48AM by Admin
Most of the companies do not have much anticipation of how their items or products move. A backorder is an order, which cannot be fulfilled at the current time. Apptivo gives you the ability to create orders for a product, which is temporarily out of stock. That is, you can create orders for your products, even when the ordered quantity exceeds the available quantity.
For instance: Consider you are furniture based company. And a customer orders for 200 furnitures from you. But unfortunately, you have only 100 on hand, ready to be shipped. So, you have to wait for the rest, which could take some one or two weeks time. Now, the 100 pending furnitures will be on back order.
Note: In order to create backorders, you are required to enable the toggle ON from the Items App -> E-Commerce tab -> Allow Backordering.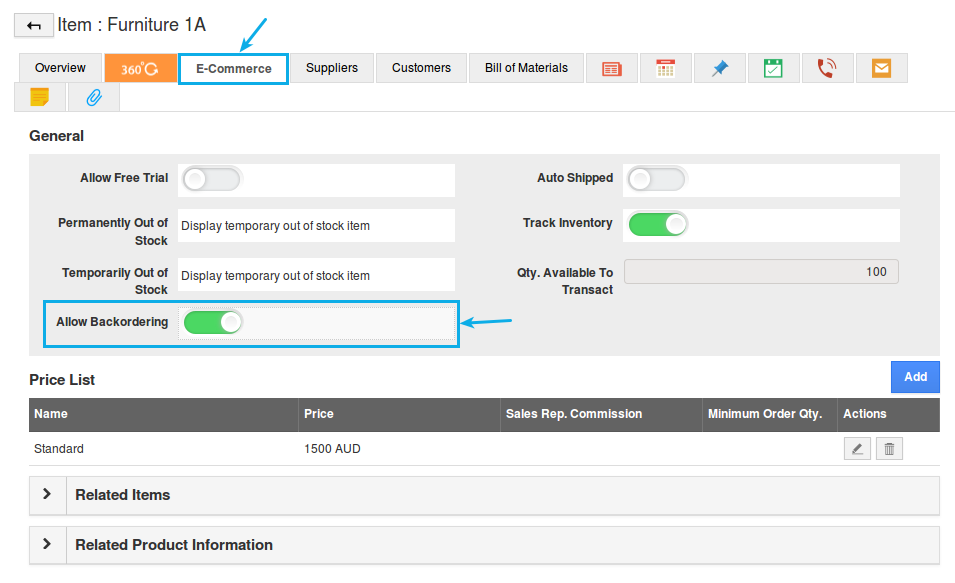 Steps to Create BackOrders
Go to the Orders App.
Click on the "Create" -> "Order" button found in the top left corner.

In the creation page, search and select the item in the "Products/Items Sold" line level.
You can view the available quantity of that item in the "Available Quantity" field.
Here, the ordered quantity (200) is greater than the available quantity (100).

Click on "Create".
Once the order is created, you can view the Back Order Quantity in the Overview page as shown in the image below:

Note
Once a back order is created, the Order Status will be set to "Back Order". When the "Order Status = Back Order", you cannot view the "Pick Release" button.
You can view all the back orders from the left navigation panel, under "By Status" -> "Back Order".

Flag Question
Please explain why you are flagging this content (spam, duplicate question, inappropriate language, etc):