Browse by Solutions
Browse by Solutions
How can I sync contacts between Apptivo and RingCentral using PieSync?
Updated on October 10, 2018 04:11AM by Admin
RingCentral is a leading provider of Global enterprise cloud communications and collaboration solutions. With a flexible and cost-effective SaaS offering, RingCentral enables the present mobile and distributed workforce to communicate, team up, and associate from anywhere, on any devices.
Integrate RingCentral with Apptivo to make calls easy with your salesperson who lives in the sales funnel, easier. Apptivo users can do their work while having the calls being recorded in the CRM apps as well as in all other apps who has entered the RingCentral number. This feature is available in Apptivo Premium & Ultimate membership.
RingCentral is a cloud phone system and integrating Apptivo with RingCentral will help with the following features,
Make a call from Web/Mobile
Receive Incoming Calls
Automatic Call Tracking
Provide contact Details
Not only to make calls via RingCentral, but it is also possible to sync and share contact information bidirectionally from RingCentral and Apptivo. This can be done with the help of Piesync Integration.
PieSync Integration Overview
What Is PieSync?
PieSync is a robust tool that enables bi-directional contact synchronization by amplifying integration between several cloud apps. It helps you in getting the foremost of your contacts by syncing and keeping your contact database up to date.
It eliminates the clumsy task of importing and exporting contacts as it directly shares and updates your contact data without any flaw.
Why PieSync?
PieSync helps you build your business by increasing productivity. It synchronizes contact bases between various cloud apps. Most cloud apps work with import/export functions which means you have to periodically remember to update your cloud apps with new data. With PieSync you no longer have to manually import/export your data. PieSync automatically transfers your data, and any updates you make, in real time, across all your connected cloud apps.
With the help of PieSync, there are 40+ App Connections currently available for Apptivo which can be easily integrated to Sync/Share their data with each other.
Integration with Apptivo
PieSync integrates Apptivo with other apps for an automatic 2-way contacts sync. Every time you add or update a contact in Apptivo, it is automatically synced with the other app and vice versa - eliminating import/export.
PieSync integration syncs all your contacts bidirectionally across your favorite cloud apps, hence you can enter customer data once. This way you'll dramatically decrease manual errors. Most cloud apps work with import/export functions which means you have to periodically remember to update your cloud apps with new data. With PieSync you no longer have to manually import/export your data. PieSync automatically transfers your data, and any updates you make in real time across all your connected cloud apps. With a solitary sign-on, you can get to sync all the Apptivo Contacts and RingCentral contacts, disregarding the process of exchanging between applications and dealing with different records.


PieSync Integration Details
PieSync is a 2-Way Contact Sync tool that integrates 80+ cloud business applications. Apptivo integrates with PieSync to make a way for your 2-way contact sync between other cloud apps. Apptivo on Integration with PieSync helps the customers with the following features,
Share Contacts


PieSync, a 2-way sync tool helps in sharing your contacts either as a 1 way or 2-way sync. It syncs all your Apptivo contacts to the RingCentral or RingCentral contacts to Apptivo by using 1-way sync. 2-way sync can be done by sharing the Apptivo and RingCentral contacts on a single go.
Prevent Duplication


Duplicate records can be removed while sharing contacts with other cloud apps. This is the notable feature of Piesync which eliminates the records being duplicated. It can be done by checking the email address of the contacts and allowing sync only if there is a different email address.
Automatic Sync

The base feature of Piesync is Auto synchronize contacts. Apptivo users have the privilege of syncing the contacts within seconds. If there is an update in any apps, it will be automatically synced in both the accounts making the users work simple and easy.
Build Your Own Sync Rule

Piesync offers you to build your own contact sync rule based on your business requirements. You can change or add the rule whenever needed. It is also possible to provide your criteria to be satisfied for making contact sync.
Track Sync Status


The analytic dashboard is viewed to track every update that users have made on a day-to-day basis such as the "New" & "Updated Contacts" from Apptivo and RingCentral. Users can also see the frequency curve which will show you the date & day wise sync operations that are done.
Time-Saving


With Piesync integration, users can save a large amount of time which was spent on exporting/importing contacts from your one app and uploading it into a different application.
PieSync Steps to Integrate Apptivo with RingCentral using PieSync
To start with your sync process, you should have an existing account or create a new account in PieSync. Creating an account in PieSync is so simple.
After creating a PieSync account you can follow the below-mentioned steps to initiate your sync.
1. Log into your PieSync Account.
2. After creation, you will be able to see the Connections dashboard. Click on "Add a new connection" to set up a new connection.
3. Follow the below three simple steps to make your connection go simple.
Choose your Apps
Authorize Your Apps
Configure your sync
Choose Your Apps


The Very first and simple process after going into your PieSync account is to Choose your Apps from where you want to share your contacts. This View page contains a number of Cloud Apps which you can select to make your contacts to sync.
For instance: We are going to sync contacts between Apptivo and RingCentral.
1. Search for Apptivo from the Search box and Select "Apptivo" as one connection.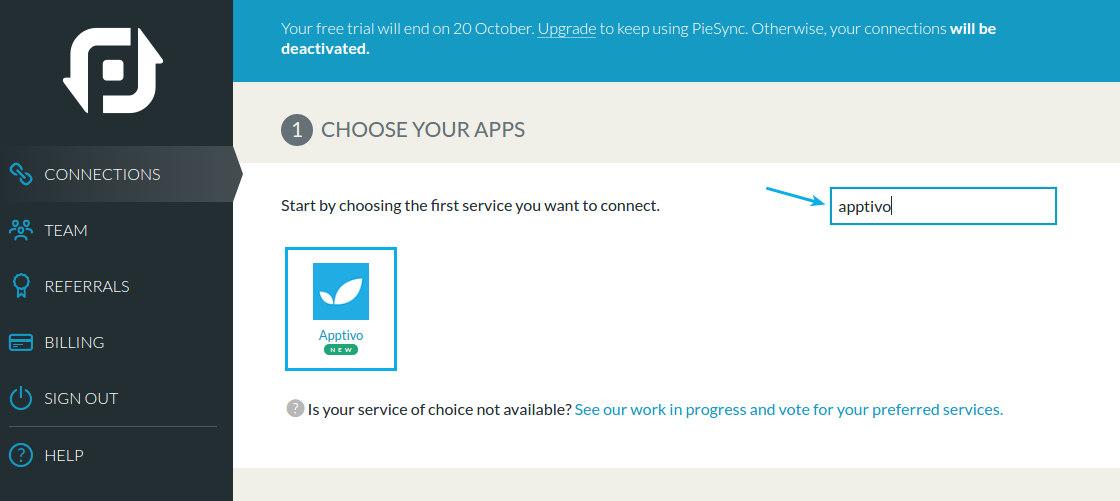 2. The second step is to search for RingCentral. Click on the icon once displayed.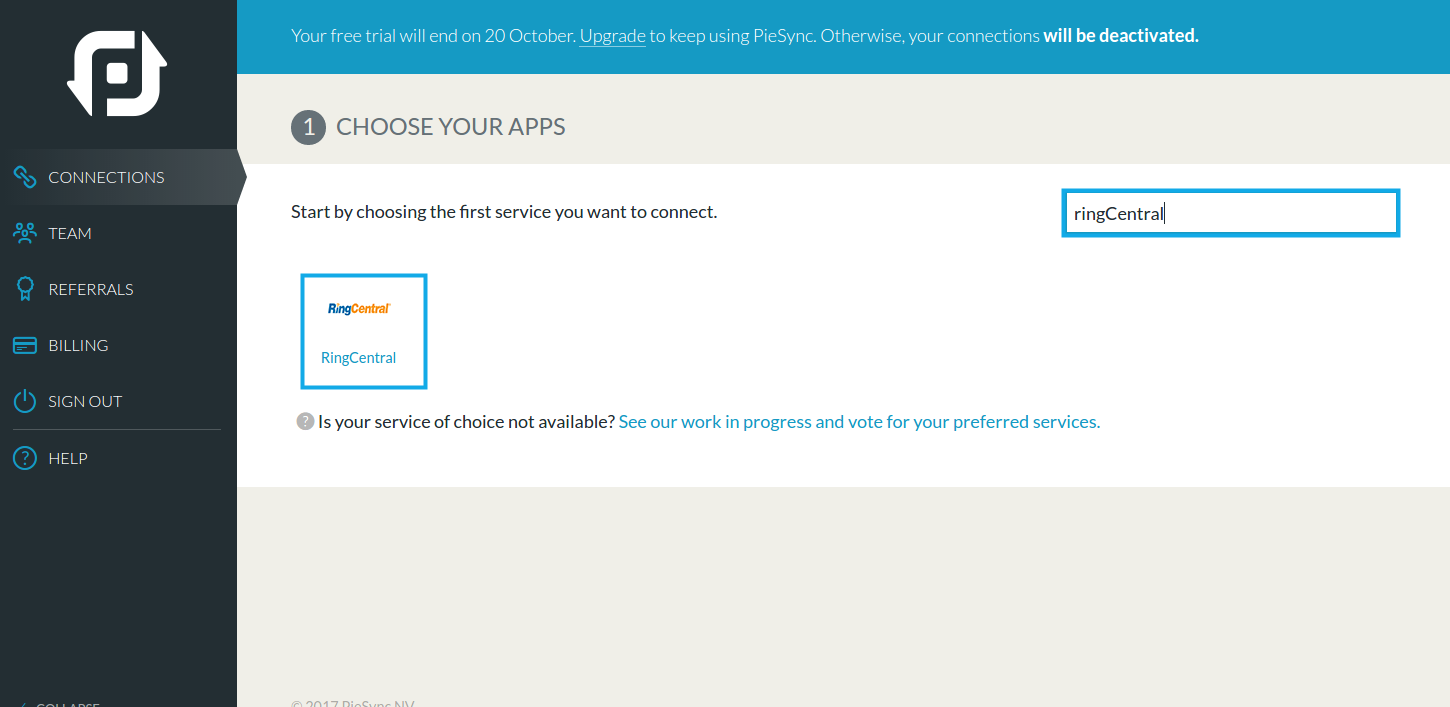 3. Now you have completed the process of choosing the Apps for the sync process
Authorize Your Apps


After choosing your required connections next, comes with Authorizing the connected Apps (Apptivo and RingCentral) for contact syncing as Piesync requires registered accounts and permission for syncing.
1. Click on Add a new account button.
2. After clicking on Add a new account button, you will see a pop-up asking for API & Access keys from your Apptivo account (you can get it from (Apptivo -> Business Settings).


3. Copy paste the details in the pop-up and click on Next button as shown in the image below: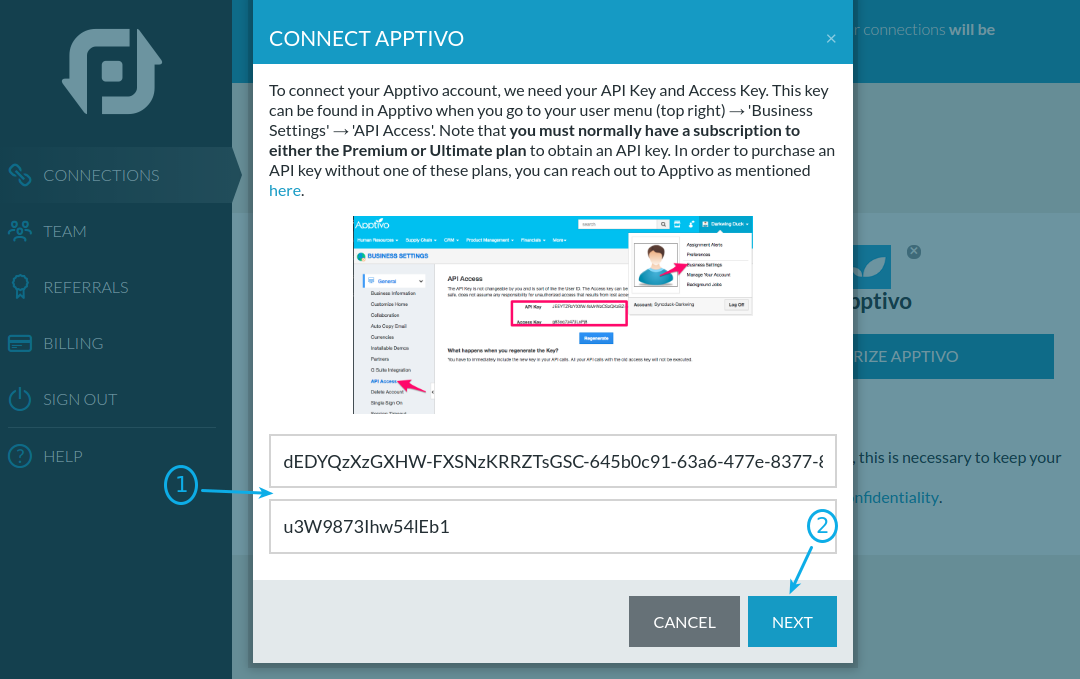 4. By doing so, the corresponding Apptivo account will be successfully authorized.
5. Now click on Authorize RingCentral button.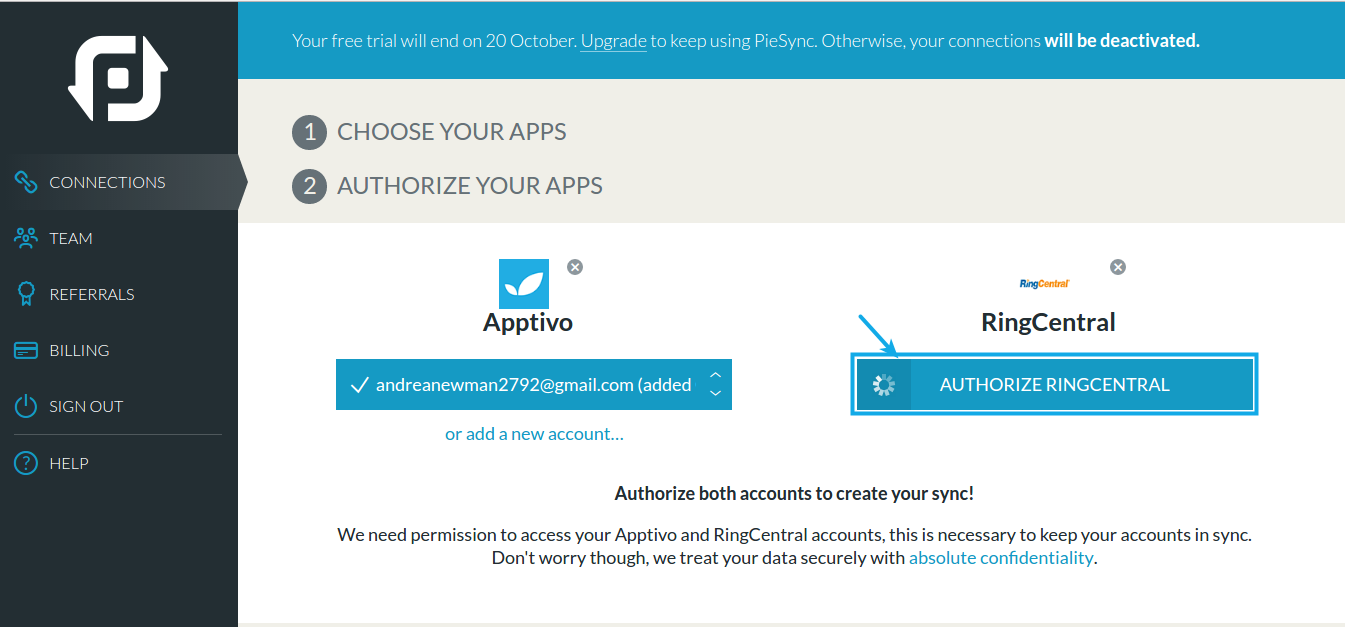 6. You will be redirected to the RingCentral Login page asking for the authorized RingCentral credentials.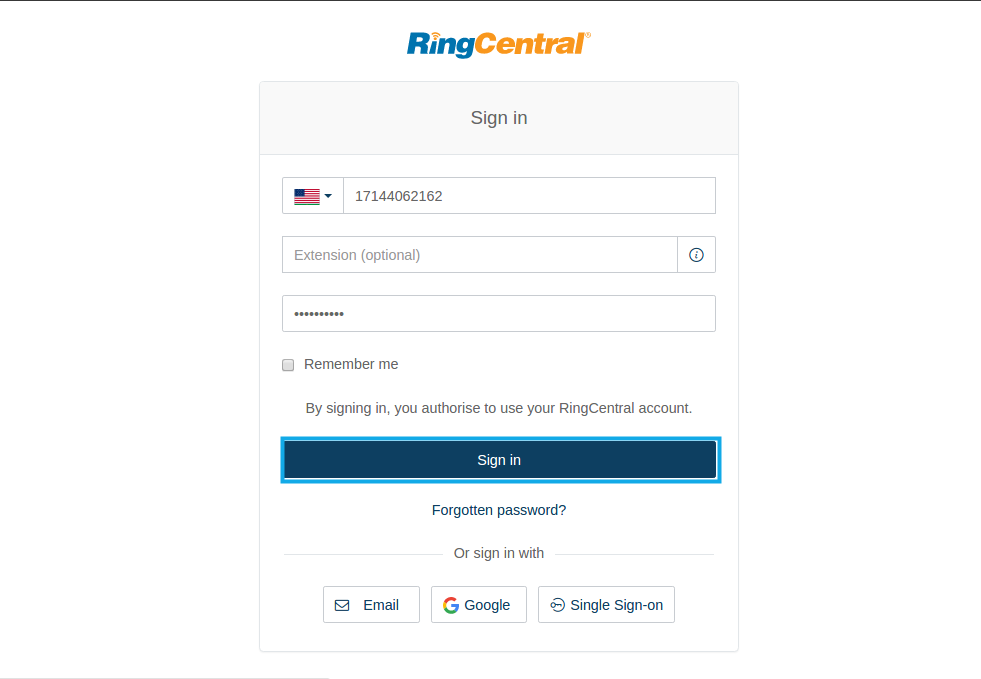 7. Provide the correct details and click on "Sign in" and so, the RingCentral gets authorized successfully.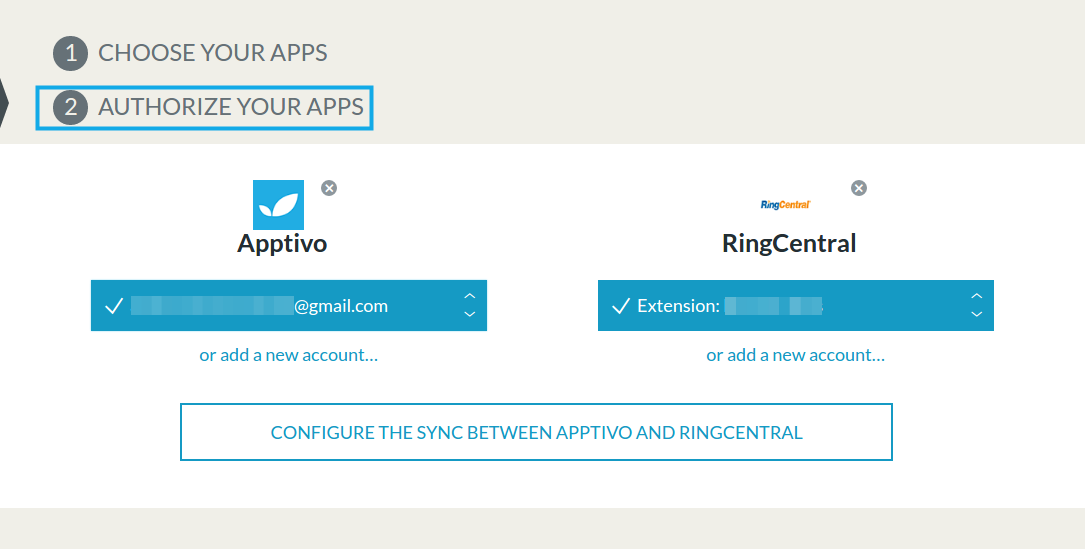 Configure your Sync


Once both accounts are authorized successfully, You can click on "Configure the sync between Apptivo and RingCentral" option.
We have to configure the accounts based on our business requirements. Piesync provides you the way to select your needed sync. It allows you to perform either a Two-way sync or a One-way sync depending upon your necessities. Those Syncs include
Sync from Apptivo and RingCentral in both ways
Sync only from Apptivo to RingCentral
Sync only RingCentral to Apptivo
Since we are going to conduct a two-way sync between Apptivo and RingCentral choose the appropriate option from the drop-down list.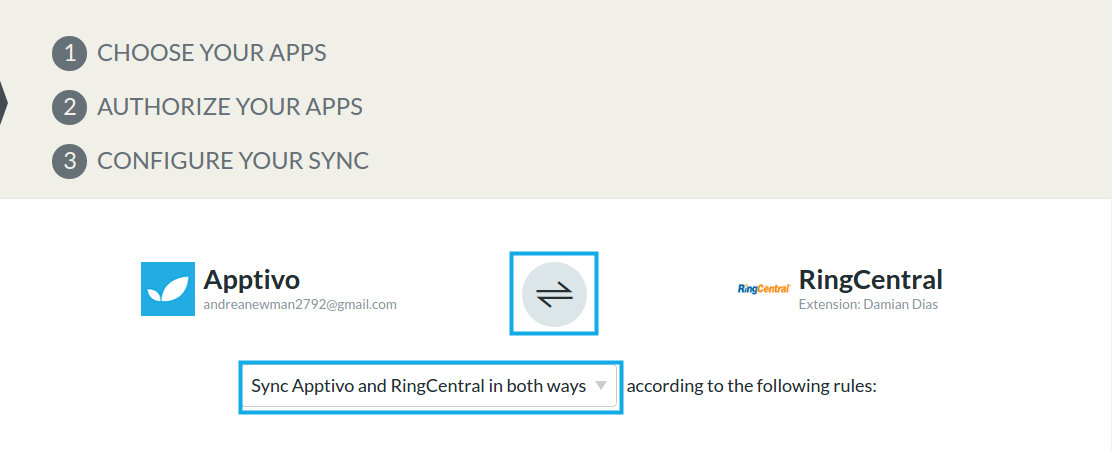 If-Then Rule


Configuring Sync follows a certain "If-Then" rules. You can give your required criteria to be satisfied to perform contact sync. You can also set up your own filter needed. It is also possible to give the If-Then Rules without any filters so that all the contacts will be synced bidirectionally
For instance: The condition can be - If a contact is in Apptivo, then sync the contact to RingCentral.
Similarly, If a contact is in RingCentral then sync the contact to Apptivo.
(Global sync - Syncs all contacts in both RingCentral and Apptivo)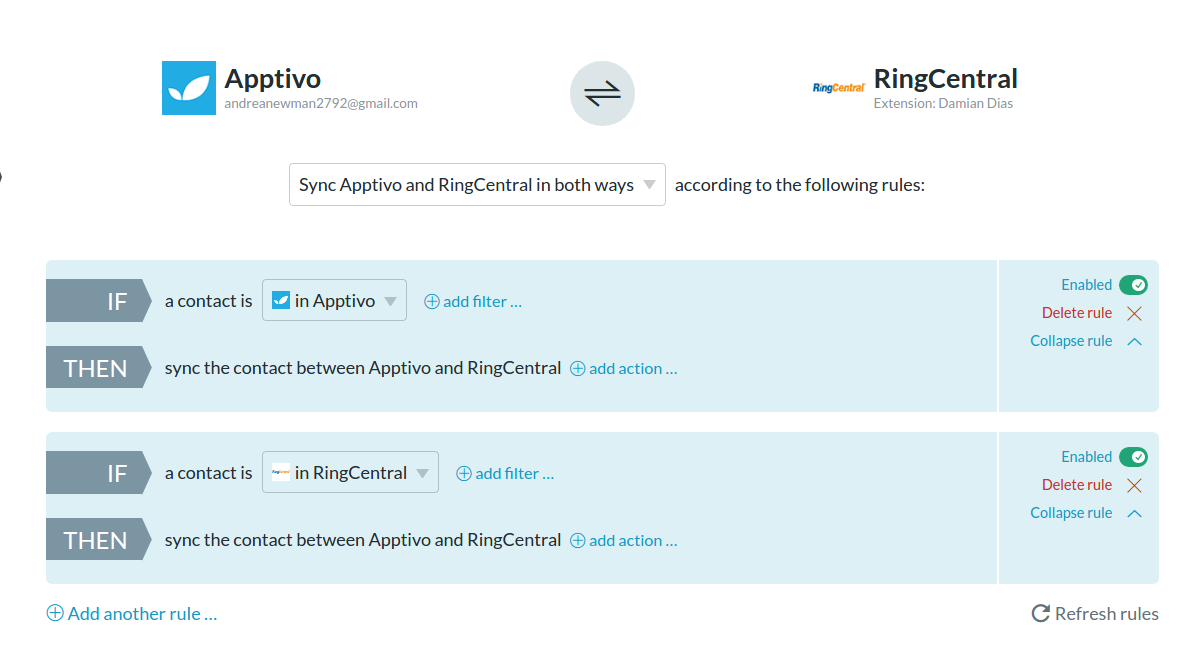 You are able to add up a bunch of rules by just clicking on "(+) icon Add Another Rule" in the footer section of the rule to set your criteria needed for Contact syncing.
Connection Settings


Avoid Duplicates - This option will by default, be enabled.
When a conflicting change is detected - In case of any conflicts occurring, in the above-created rule, this option decides the priority.

Field Mapping
In the "Field Mapping" section, we have both default and customizable field mapping. You are not allowed to discard the default field which is in the field mappings.
A lot of custom fields can be added up for field mapping. Customizable Field Mapping is available from the Medium Plan and onward only. Custom fields are mostly added by the user. Custom fields will be mapped only if that field is present in both the apps being synced.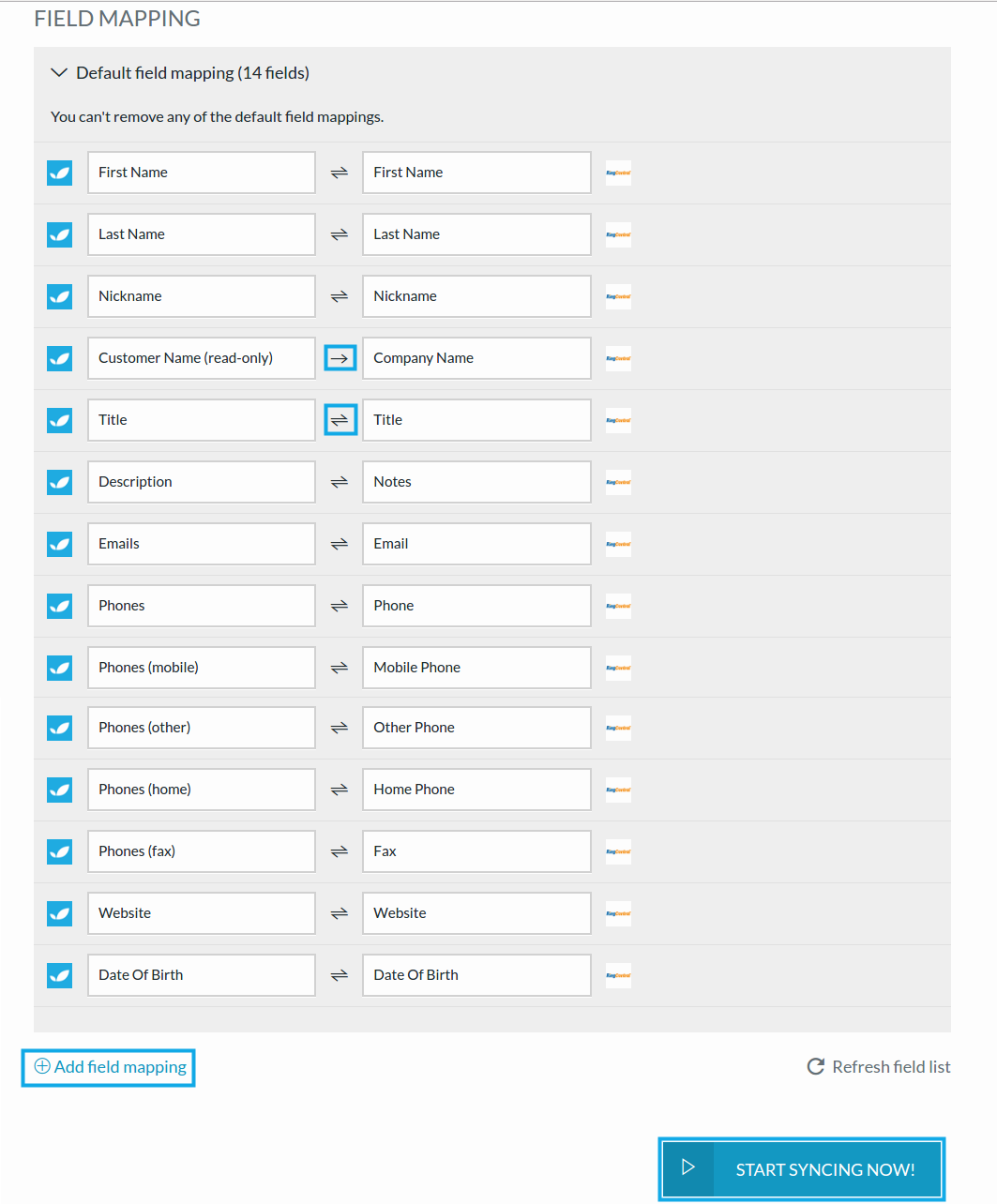 Note: Due to some exceptions, a little bit of custom mapping can perform only a One-way sync. If your mapping shows the (→) direction, it will initiate the One-way sync. Otherwise, the direction of the configured mapping in (←) this direction will win.
Start Syncing
1. Click on "Start Syncing Now" which can be found at the bottom right corner.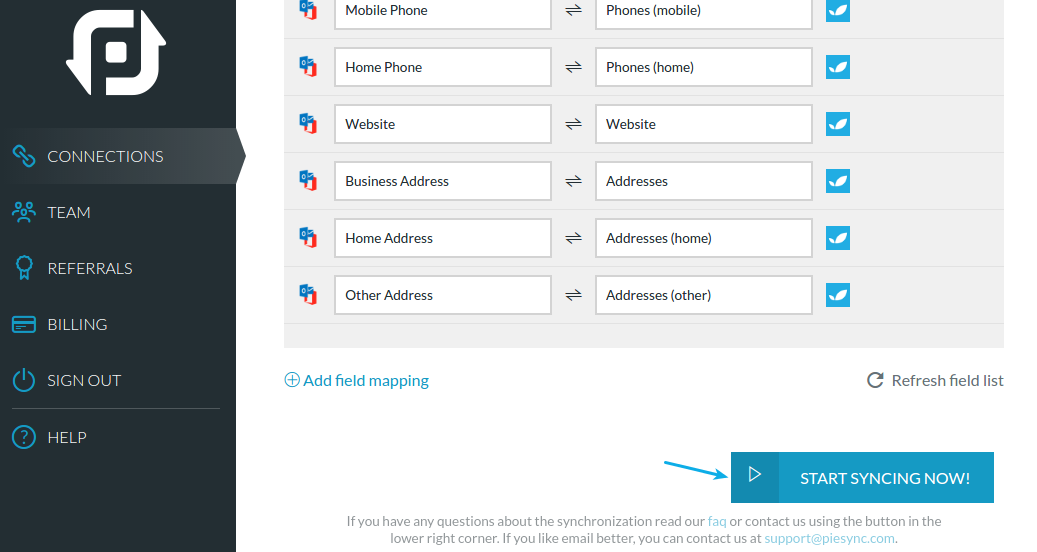 2. Upon clicking Start Syncing Now, A popup will be displayed as shown. Click on "Start Syncing".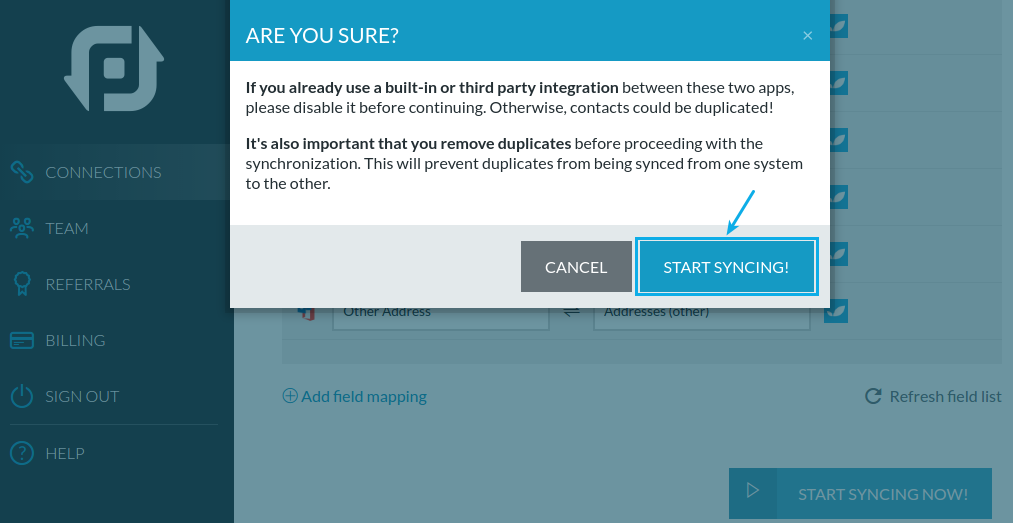 3. If both of your accounts which are used for the contact sync is active (Logged In) then your sync process will not exceed 3 to 4 minutes.
4. After completion, the sync status will be displayed in the analytic dashboard. You can view the number of contacts synced and a frequency curve will show date wise sync operations.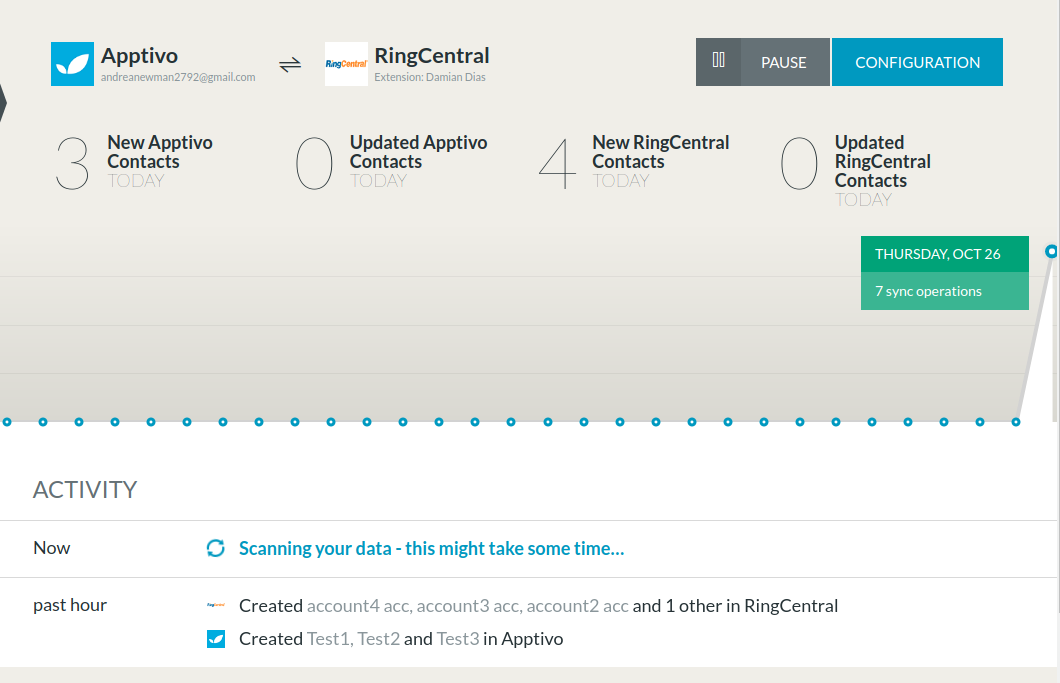 5. You can also monitor your connection in real-time. If needed the sync process can also be paused based on the need.
View Synced Contacts
1. Go to your RingCentral account.
2. Click on My extension from the RingCentral page.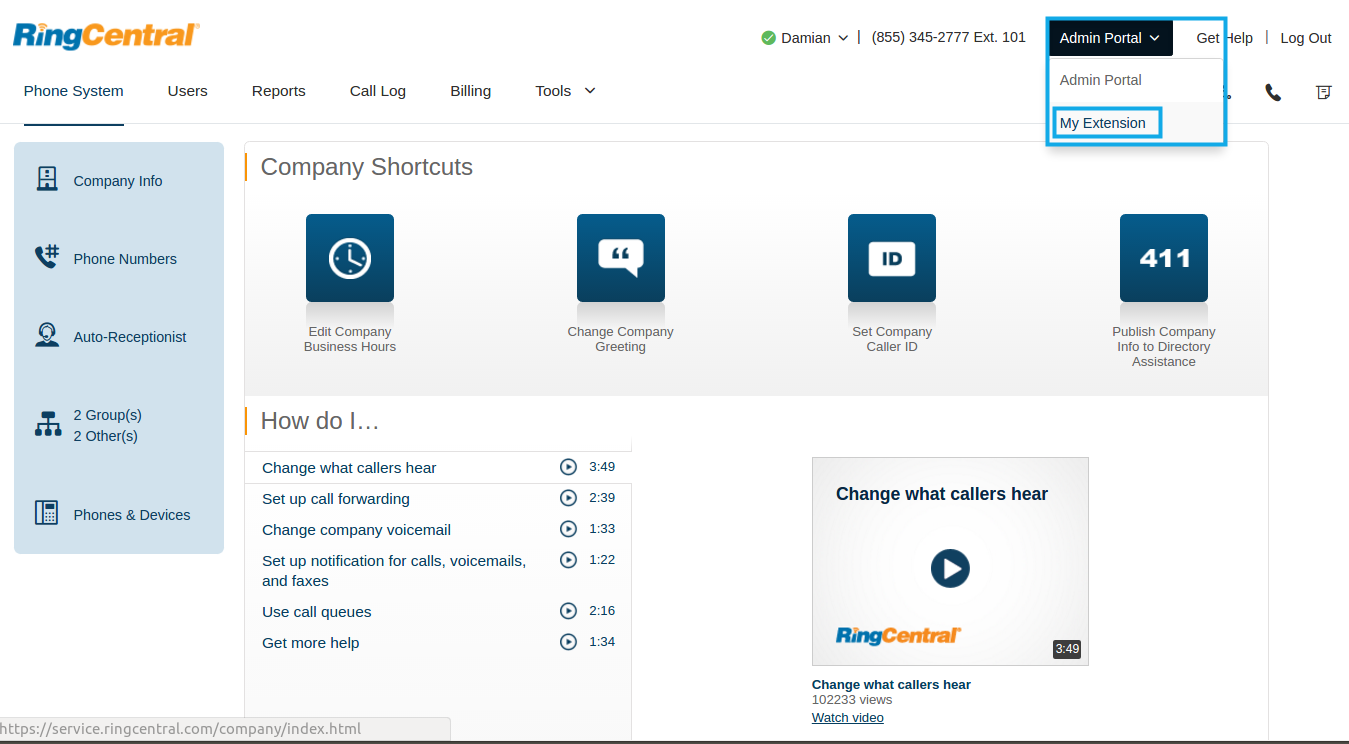 3.Select "Contacts -> Personal"from the RingCentral page. You will view the synced contacts.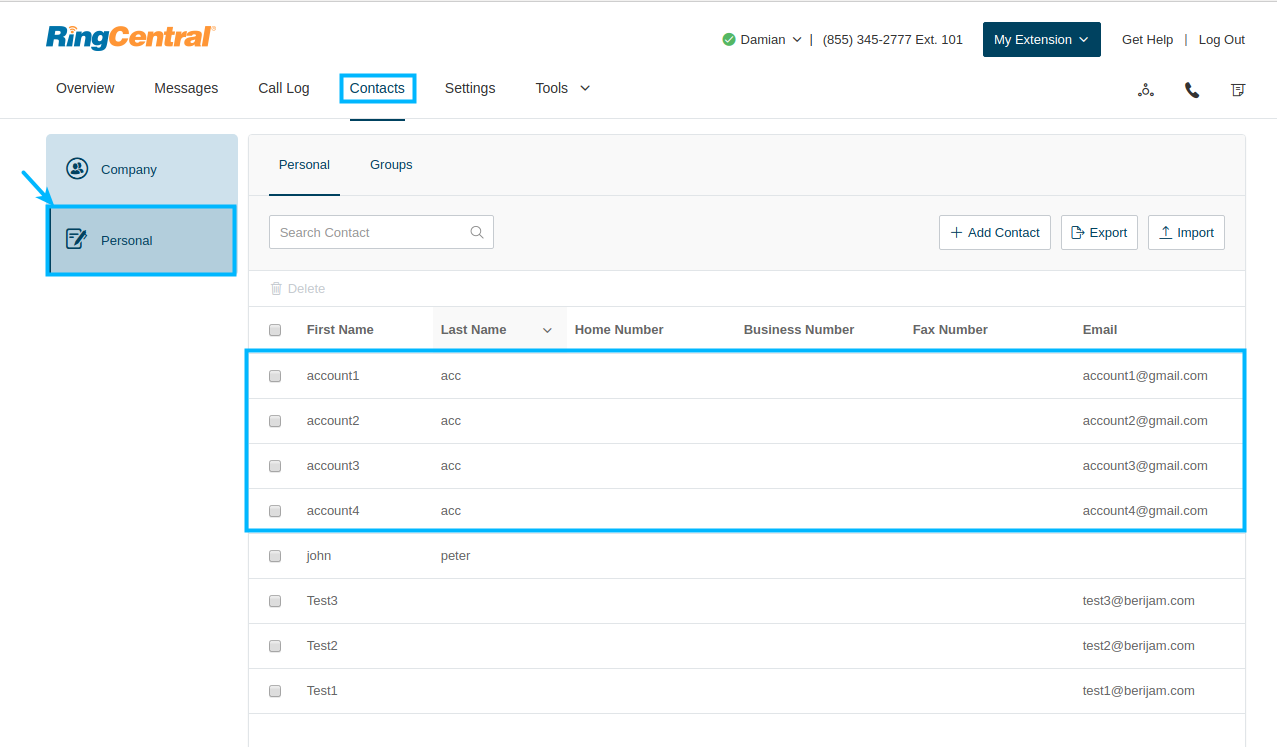 4. Similarly, You can view the contacts in your Apptivo Account by signing into Apptivo.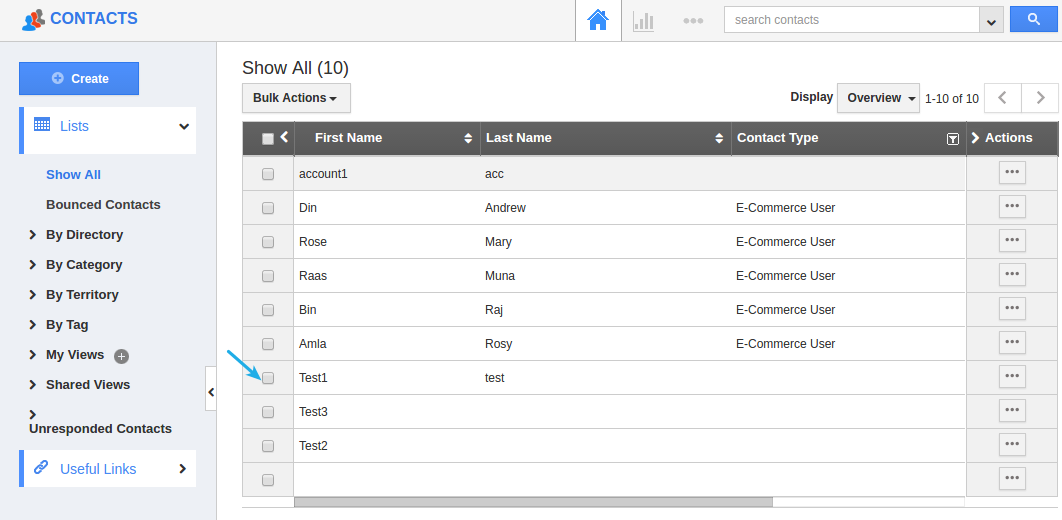 Flag Question
Please explain why you are flagging this content (spam, duplicate question, inappropriate language, etc):