Apptivo contact management provides a professional relationship with fully integrated approach which pull in all contacts and continuously syncing them. We store your contacts securely in the cloud and fetching them across multiple platforms like iPhone, Android phone, iPad, Tablet, Outlook, etc. No matter if you lose your phone or change jobs, your contacts come along. Our communication activities, follow ups, meetings, Calendar invitation are always at your fingertips.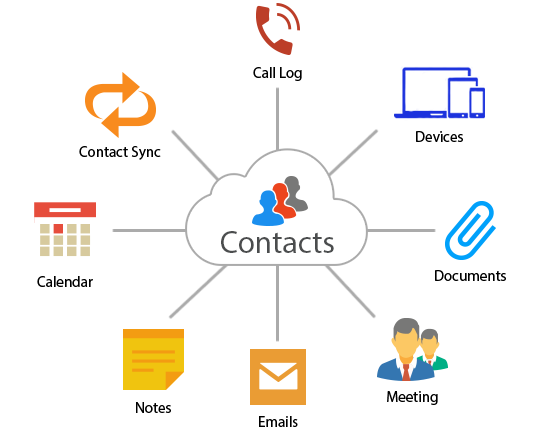 Apptivo contact insights never lose a connection at any point of time regardless to your location. Automatically add and merge new contact while importing and associating with integrated apps. Creating and adding tags, call log, and area to track relevant notes, documents/files will rebound the relationship to next sales step.
Contacts in One Place
Many ways to keep track of all contacts and update them instantly by google sync. G Suite linked with all business activities, so by syncing this is to share your contacts across the organization. Apptivo makes this possible with Google Contacts Sharing with a simple set up, in Google Contacts
Centralized View
360 view tab holds every integrated apps of contacts, that will fetch all activities related to the current contact you are looking at and have the complete view of associated apps from this tab.
Automatic Collaboration
Tasks, calendar events are easily categorized under a unified agenda which points out each and every contacts activities independently.
Contacts Categorization
We provide enriched feature to organize and filter according to status, source, rank, or territory which are customizable according to your business needs.
Smart Search
We have simple search & advance search bars that has the ability to narrow their searches by a series of different filters and multiple search fields.
"We've looked at many CRM solutions, and none were as fast and easy."
Which solution is right for you?
CONTACT MANAGER
A simple online CRM system to store contacts, reminders, files, and communication history. If your business grows and you need more apps, feel free to add them from the App Store at anytime.
SALES TRACKING
Manage your sales pipeline, stay on top of employee activities, and close more deals.
CRM & Billing
Track your sales and easily convert them into invoices to get paid quickly!