Contact Center
was last modified:
December 8th, 2021
by
Everything Your Business Needs, At Your Fingertips
Never miss out on a call or a text message by integrating your business with Contact Center App. Get started and make your interactions with your customers smooth.
Create Your Call Center
Create an interactive user ecosystem today for your customers. Manage your inbound and outbound calls within your call center application. Communicate with your customers using multiple channels and delight them with timely responses.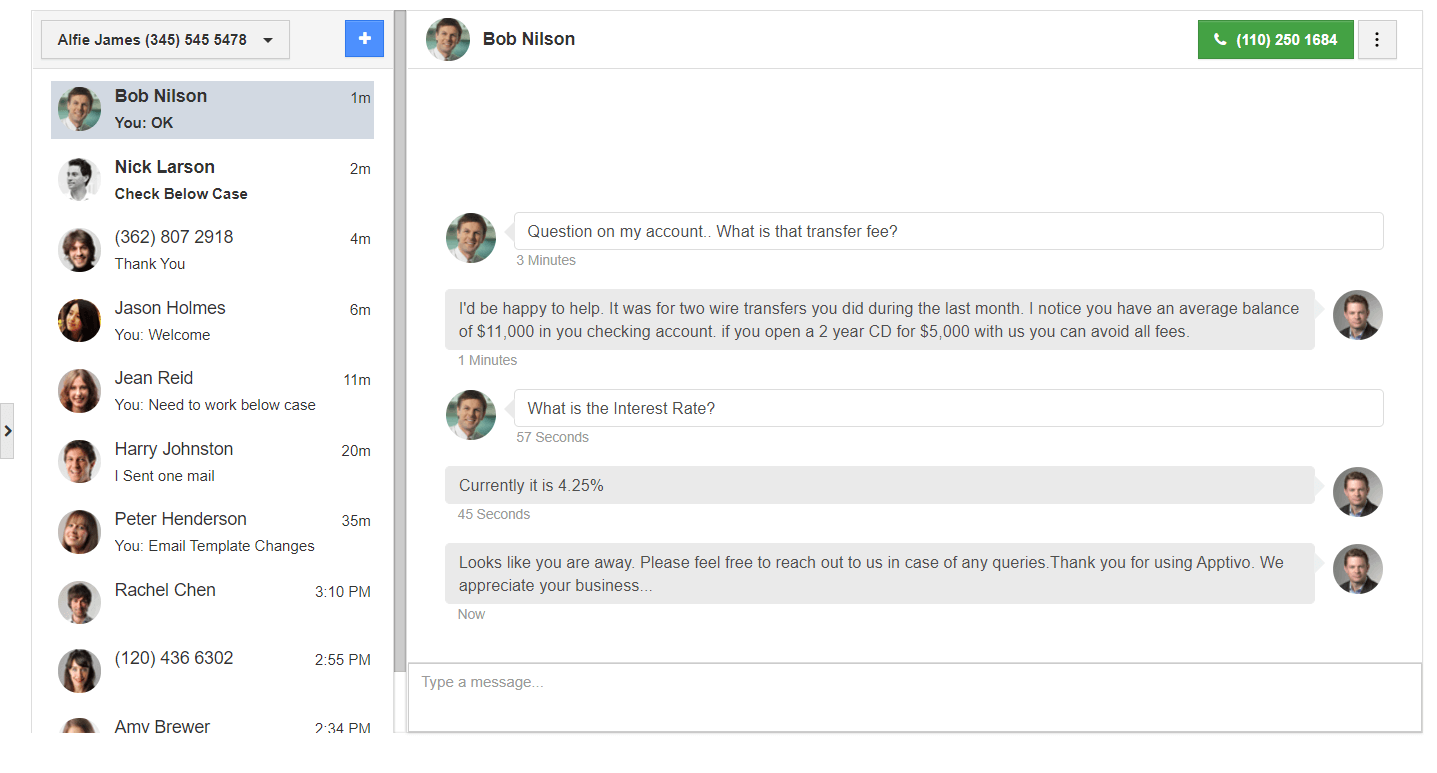 Instant Messaging
Send and receive text messages with an advanced messaging dashboard. Receive real-time notifications on incoming messages and easily configure access controls to designate employees within the team.
Detailed Dashboard
Make use of the Dashboards option of the Contact Center App to ensure quality assurance and monitor the agent's performance and your team's performance. Give personalized focus to each call and text message with real-time analytics.
Call Queue
Audit the Work Queue and strategize the customer experience with a real-time tracking system. Observe and prioritize the live calls, calls in queue, and voicemails. Our advanced algorithm assigns the phone calls based on the idle time of your agents.
Interactive Voice Response
Build your call flow from the start with Apptivo's top-notch IVR framework and let your customers experience the right service at the right time. Keep your customers away from stress and say no to complex call flows.
Set up With Nexmo
Easily purchase phone numbers in Nexmo and effortlessly integrate it with Apptivo to start using your Contact Center application. Manage your phone calls and text messages from any device and organize your workflow efficiently.
Contact Center Features
Explore what makes Apptivo's Contact Center application unique and innovative.
Tailor-Made IVR Setup
Forward calls to the right agent by configuring the call routing with personalized call handling rules.
Call Conferencing
Connect with multiple persons at a time. Make the conversation more collaborative and productive.
Automated Call Forwarding
Eliminate manual allocation and transfer the calls automatically based on the idle time of the agents.
Voicemail Service
Leave no calls unanswered. Give the callers an option to leave a voicemail and get back to them instantly.
Messaging Dashboard
Receive instant notifications on incoming messages across Apptivo without switching to Contact Center App every time.
Reporting
Generate reports on calls, text messages, compare the performance, analyze the results, and export the reports.
Work Shift Hours
Set up the Work Shifts of your employees to transfer the calls only when your employees are available.
Default Call Routing
Route the inbound and outbound calls through a computer or mobile phone and reduce the customers' waiting time.
KYC
Identify the callers from your existing customers or prospects database by employing Contact Center sync with Apptivo's CRM Software.
Set Up Your Call Center Today
Frequently Asked
Questions
AIntegrate your Contact Center application with Nexmo to make calls and send text messages.
AThe Interactive Voice Response facility of Apptivo has multiple options to make your call tree simplified.
AThe Contact Center App has a dedicated SMS dashboard using which businesses can manage their messages.
ACertainly! The Triggers feature of Apptivo extends support to send event-based and time-based SMSes automatically.
Start a Trial / Book Demo
Check out the 30 Day Trial offered by Apptivo to all its customers at zero cost. Choose the applications that go along with your business and sign up for a one-on-one demo session to get to know your favorite applications better!