Browse by Solutions
Browse by Solutions
How do I set up the CRM & import my data?
Updated on October 27, 2015 02:20AM by Admin
Apptivo CRM is one of the most affordable and effective CRMs you could hope to find. Firstly the total cost of implementing a CRM includes several things:
Buying the software licenses
Hosting the software on separate hardware if you plan to do it in house
Training your users to use the CRM.
Often your users may need to work late after office hours or attend special training sessions losing out on valuable time they could be spending meeting customers. Apptivo works out to be very economical in each of these aspects: - The standard plan from Apptivo is free for an unlimited number of users. Many organizations that do not need very advanced online CRM capabilities could start with the free standard plan. For doing more, businesses could choose one of the paid plans. Each of these plans have a per user pricing and they are very affordable.
Apptivo CRM is easy to set up. Follow these steps to get started:
Once customers and their details are uploaded, You can link contacts to those customers. This is an advantage of uploading customers before contacts into Apptivo.
Another way to know more about Customer Relationship Management, just click on any apps under the CRM section and look at the left sidebar. The CRM setup wizard will be always found under the quick links.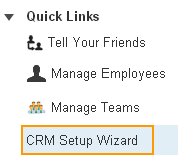 Apptivo is hosted on the cloud. So you do not have to worry about buying expensive hardware. You also do not need any IT personnel to take care of the hardware or software maintenance.
Apptivo is web based, intuitive and easy to use. Most users will be able to be learning how to use Apptivo CRM within a few hours. The administrator can get familiar with Apptivo CRM using the getting started guides and easily train the other users in a few hours.
Flag Question
Please explain why you are flagging this content (spam, duplicate question, inappropriate language, etc):