Browse by Solutions
Browse by Solutions
How do I Create Custom Attributes in Work Orders App?
Updated on January 3, 2018 10:59PM by Admin
Customizing App allows you to add the custom fields as per your requirement. Work Orders app allows you to add custom fields of different data types.

You can load your creation page with new sections and fill them up with your own required text fields, radio buttons, drop downs etc. Going through the following steps will make concept clearer. Here we go!
Steps to Create Custom Attributes in Work Orders
Log in and access Work Orders App from your universal navigation menu bar.
Click on "More(...)" icon and select "Settings" located in the app header bar.

Select "Master Layout" under "Customize App" drop down from the left navigation panel.

If you are standard plan user, then you need to upgrade your account to use this feature. It would be notified as below:

Initially, choose the Section under "Palette" tab. You can customize with one or two column section.

Drag and Drop necessary attributes in the section.
There are two other tabs present - "Inspector" and "Revision".
Inspector tab allows you to give the details of the selected specific field, whereas, the Revision tab allows you to view the past changes made in the master layout allowing you to restore that revision.
For instance: here, a drop down is inserted as shown in the image. You can rename this custom attribute from the Inspector Tab.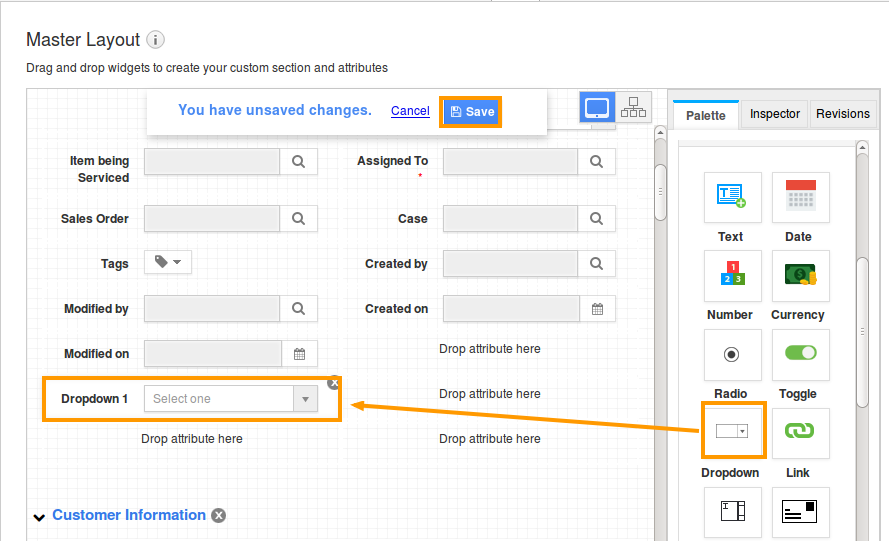 Related Links
Flag Question
Please explain why you are flagging this content (spam, duplicate question, inappropriate language, etc):