Browse by Solutions
Browse by Solutions
How do I Search for Contacts?
Updated on January 30, 2018 12:59AM by Admin
Contacts App allows you to perform simple and advanced searches. Search box is located on the top left corner of the homepage. Here you can either enter the name or email address of the contact. However, if you want to give a criteria to the search, go for Advanced search. Next to the search box, you will notice a down arrow button. Click on that. It will open up the Advanced Search box.

Lets go through the following steps.
Simple Search
Simple search allows you to search using a single search field located in the header bar.

Simple search takes one search string as an input and searches across several fields including:
Contact Name – Name of the contact
Email – Email address of contact
Results will be displayed as shown in the image below:


Advanced Search
Advanced search allows you to search using multiple search fields. You can access advanced search by clicking the down arrow in the simple search field in the header bar.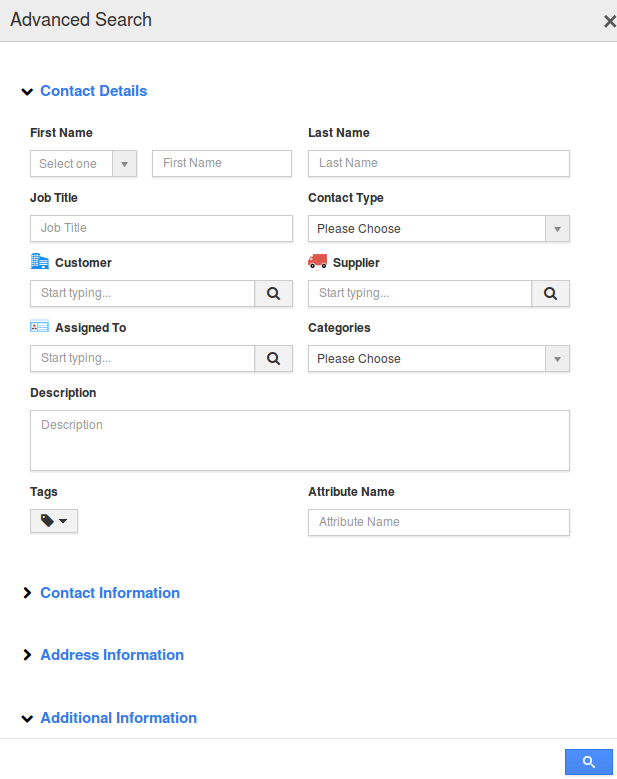 Advanced Search in Contacts app allows you to search using the fields shown below:
Contact Details
Contact Information
Address Information
Additional Information
Hobbies & Interest
Social Information
Searching using "Created On" and "Modified On" is also possible. You can search Contacts using the created date or modified date.
Related Links
Read more about:
Flag Question
Please explain why you are flagging this content (spam, duplicate question, inappropriate language, etc):