Browse by Solutions
Browse by Solutions
How do I customize the sales receipts app?
Updated on July 29, 2015 12:35AM by Admin
Sales Receipts settings are provided with meaningful defaults. You can customize them according to your requirements by configuring the application.
Log in and access Sales Receipts App from your universal navigation menu bar.
Click on "Settings" icon located in the app header bar.

General
General settings allow you to configure the default sales receipts lines, sales receipt number generation, item pricing.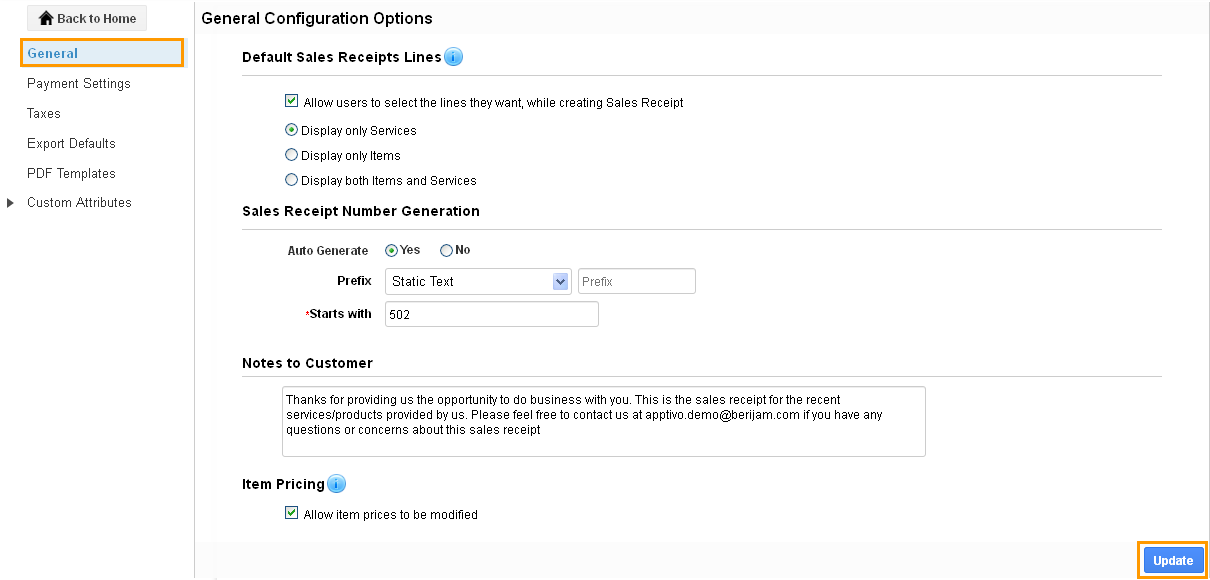 Payment settings
By default, currency will be set in the country your business is located. You can enable "Accept payments in multiple currencies" option to accept different currencies from customers.

Taxes
Taxes may be levied by authorities on items/services. While generating sales receipts, taxes need to be calculated appropriately along with items/services sold.


Export Defaults
Export Defaults allows you to capture account name and type for quickbook exports to be shown in a spreadsheet view.


PDF Templates
Create templates for sending PDF sales receipts to the customers. Click on "Create" button to create new PDF Templates.

Custom Attributes
Custom attributes are fields that are unique to your business. Custom attributes allow you to add any custom fields not provided in the creation page. You can create custom attributes for Sales Receipt and Sales receipt lines.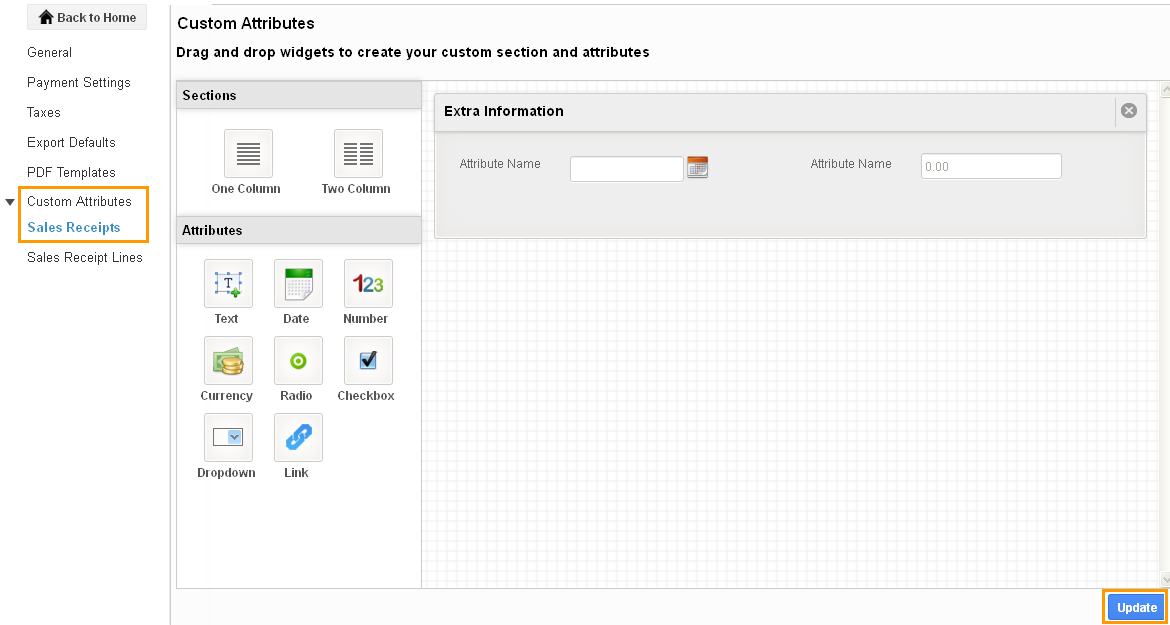 Custom attributes include:
Sections: Click on "One Column" or "Two Column" section to create custom sections.
Attributes: Drag and drop attributes in sections.
Text - Text field for entering text values.
Date - Date field for choosing dates.
Number - Number field for entering numbers.
Currency - Currency field for entering currency values.
Radio - Radio fields for opting the values.
Checkbox - Checkbox field for choosing multiple values.
Drop down - Drop down field for choosing a specific value from a list.
Link - Link field for entering the URL
Click on "Update" button complete.
Related Links
Read more about:
Flag Question
Please explain why you are flagging this content (spam, duplicate question, inappropriate language, etc):