Browse by Solutions
Browse by Solutions
How do I edit a requirement?
Updated on July 10, 2017 03:49AM by Admin
The Requirements App helps clearly define quality standards for your product database, as well as assisting to define scope for your company projects. The requirements app is a centralized location to store this information, which is then linked to the Items & Projects Apps.
Steps to Edit a Requirement
Log in and access Requirements App from your universal navigation menu bar.
Click on "Show All" from the left navigation panel.


You can view all requirements in the dashboard.
Click on "More Details" icon near requirement to make modifications.

You can view the "Requirement" page, in which modify:
Requirement Summary
Description
Assigned To
Item Project
Need by Date
Associated With


By clicking on the "edit" icon, you can modify the requirement as needed.
After editing, click on the "save" button.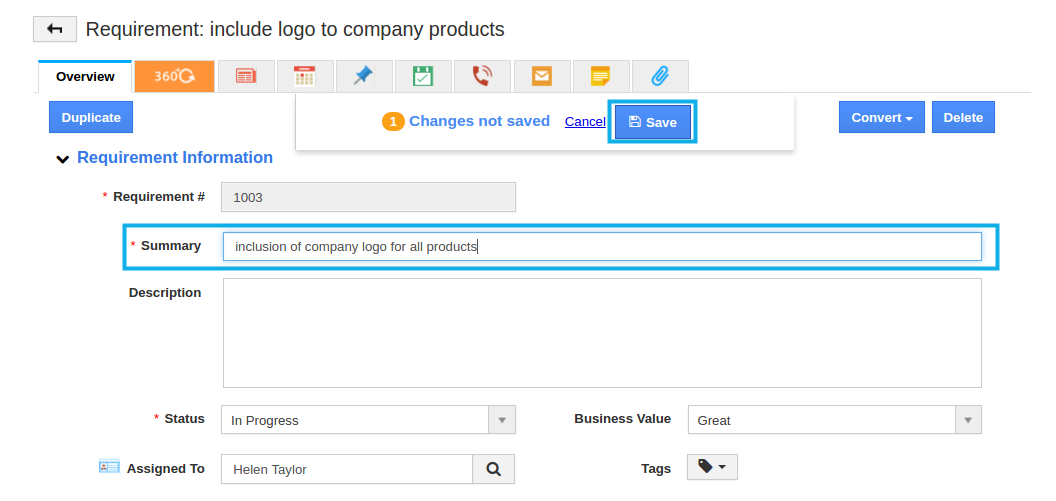 The changes will be updated in the requirements page.
Related Links
Read more about:
Flag Question
Please explain why you are flagging this content (spam, duplicate question, inappropriate language, etc):