Browse by Solutions
Browse by Solutions
How to share notes with customer
Updated on June 21, 2017 08:14pm by Admin
Firstly, notes are most commonly used as intercommunication tool which provides a log of changes and updates internally among employees.

In addition to that, the notes sharing option allows you to simultaneously post the views and update the customer via email. This is an automated process from the setting, you will need to enable the setting.

Lets take a quick look at how its done.
To share a Notes to Customer
Login and access Cases App from your universal navigation menu bar.
Click on "Show All" from the left navigation panel.

You can view all your cases listed in the dashboard.
Click on "More Details" icon and you can view the overview page.

Navigate to the "Notes" tab from the Associated objects bar.

Click on "Create Note" button and provide:
Template - Select the pre-defined Template.
Description - Description about the Notes.
Associated With - Select Assignees for the notes.
Tags - Select the Tags.

In Notification details section, you can view "Share with Customer" , "Share with Assignees" and "Share with Others".
To toggle "ON" the "Shared with Customers" option, you can share your note with the customers.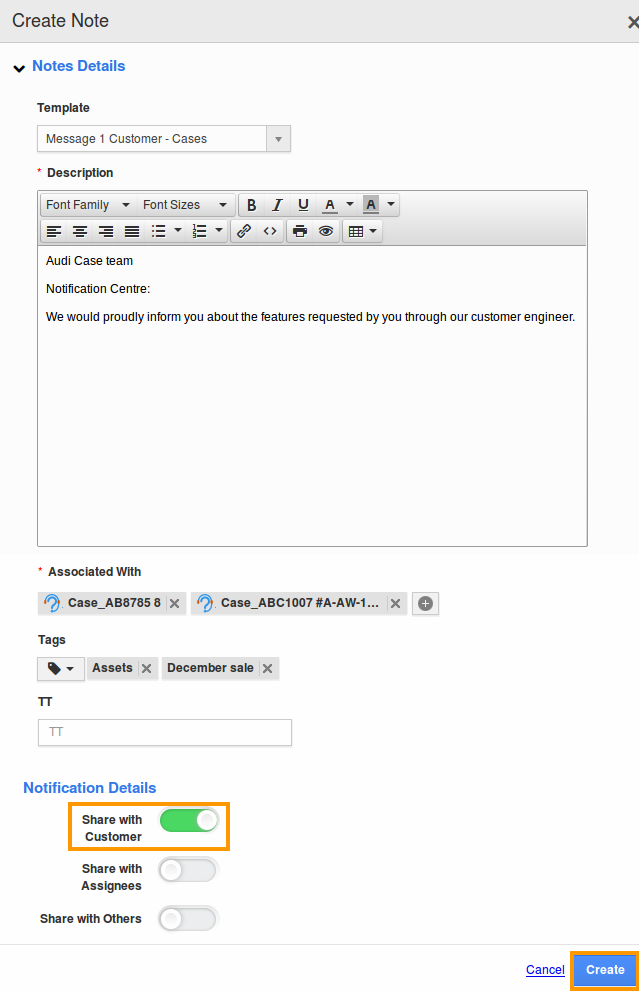 Click on "Create" button, to complete.
Flag Question
Please explain why you are flagging this content (spam, duplicate question, inappropriate language, etc):