Browse by Solutions
Browse by Solutions
How do I create a promotion for a product/item?
Updated on July 10, 2017 10:00PM by Admin
Promotion is an activity concerned with the intention of increasing sales or market capability for a product/item by a company. It generally, targets the potential buyers and makes them to purchase it. Nowadays, promotions are done with the help of electronic medium in order to cover a larger market with optimum utilization of resources.
Steps to Create New Promotion
Log in and access Promotions App from your universal navigation menu bar.
Click "Create" button from the left navigation panel.

'
You can view "Create Promotion" page , in which provide:

Promotion Information
Scope of Promotion
Promotion Type



Click on "Create" button to complete.
Promotions Overview
Once you hit create, the promotions overview page gets loaded with the data provided at the time of creation. From here, you can can also update promotion information by choosing the edit button.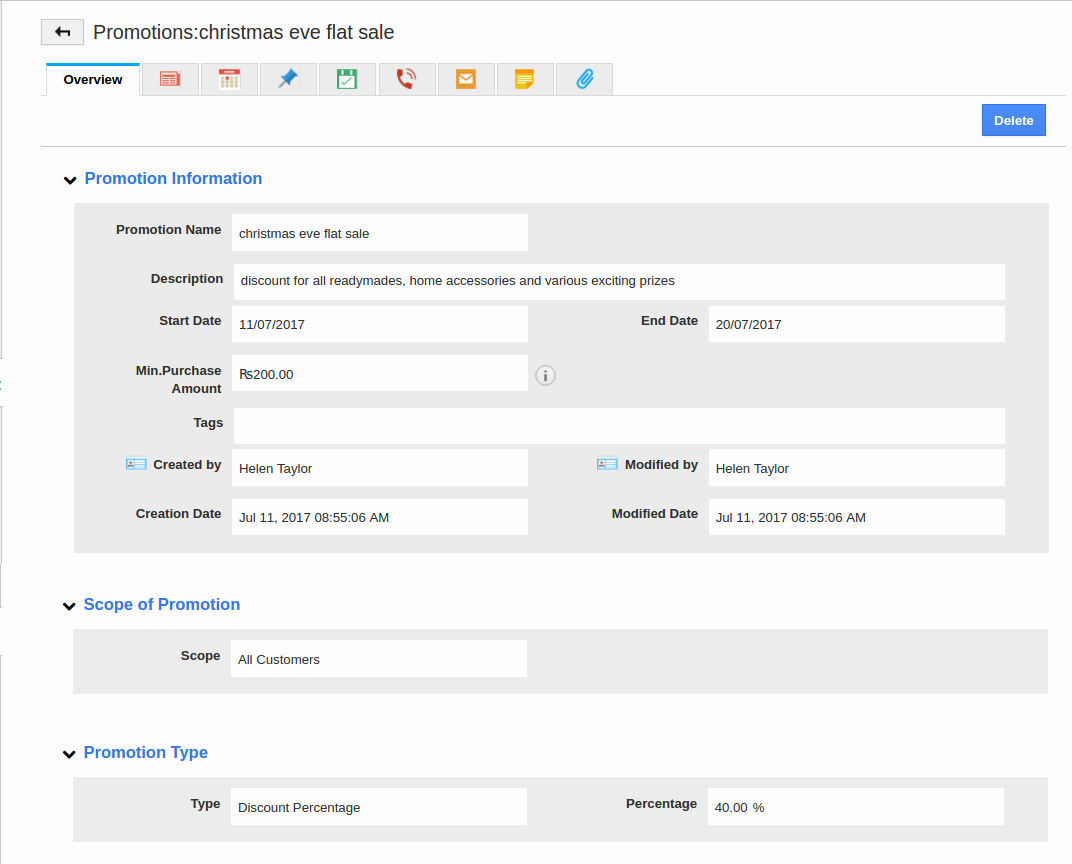 News feed
This tab displays the news feed, such as newly created promotions, or modified. You can also search and filter the feed.
Calendar
You can create an appointment and this appointment schedule will be shown in this calendar. You can also search appointments in the calendar.
Tasks
Tasks tab shows all tasks created with particular supplier invoices. Also you can create tasks by providing task description, start date etc. Associate the created tasks with any objects.
Emails
Emails can be composed and send to your customers. It shows lists of all emails sent out by you. Also you can associate these emails with any objects.
Notes
Notes are handy to add any suggestive comments or record any actions performed. This can be viewed by all your employees who have the access to this app.
Documents
Upload documents related to promotions and add Google document. This will improve communication with the team.
Related Links
Read more about:
Flag Question
Please explain why you are flagging this content (spam, duplicate question, inappropriate language, etc):