Browse by Solutions
Browse by Solutions
How do I Share My View with my Employees in CRM?
Updated on June 12, 2017 05:16AM by Admin
A small business owner would want to share his Table View with the employees to create business strategies to take the business to the next level. Is this possible in CRM?

Apptivo CRM apps allows you to customize columns. Thus allowing you to select your preferred fields for viewing information in a table view. The custom view is shared with specific privileged users of your firm. You can also edit or delete the views shared by others.
There are few stand alone steps to be followed to share your custom views with other user.
Steps to share "My Views" with employees in Customers App
Log in and access Customers App from your universal navigation menu bar.
Click on "Search" icon located at the app header bar.

You can view the search results as shown in the image below:

Click on "Please Choose" button in "Display" field.

Select fields you would like to view in a table format.
Click on "Save as View" button and specify:



View Name – Name of the view.
Share With Other Users – Click "ON" to share views with others.



By default, "Share With Other Users" will be toggled off. Click on "Toggle On" button to enable share views.
Click on "Save" button.
For instance: We have created a "Custom view of customers" which is shared by other users. In employee's login, the custom views can be viewed in "Shared Views".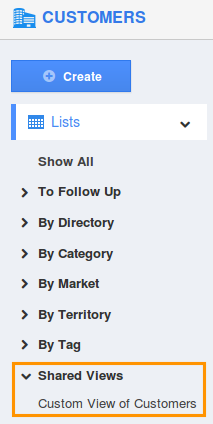 Related Links
Flag Question
Please explain why you are flagging this content (spam, duplicate question, inappropriate language, etc):