Browse by Solutions
Browse by Solutions
How Do I Schedule Deliveries of Emails / Reports in the Cases App?
Updated on December 3, 2017 10:25PM by Admin
In the Cases App, allows you to schedule your emails and reports. However, before scheduling the delivery time for reports or emails, you have to set frequencies.
Quickly going through the following steps will make it clearer.
Steps to Schedule Delivery of Emails/Reports
Go to Cases App from app header bar.
Click on "More(...)" -> "Settings".




Choose "Emailed Views/Reports" from "Notifications" drop-down in the left navigation panel.




Click on the "Create" button to schedule the delivery.




Enter the required details :
Name : Name of the report to be delivered.
Description : Details of the report.
Autodeliver periodically: Enabling this toggle will allow you to schedule the report periodically.
Saved Search :

Search Type - Selecting this option from drop-down will display the views created using "Advanced Search" or "Views" in the home page of the Cases App.
View - This option will display the customized views created.

Frequency : It allows you to set the frequency which is already created, that indicates when the report must be sent ( Say, time and periodicity)

Start On : Start date of receiving the report.
End On : End date of receiving the report. It has options like:

No end: Never ending receival of reports.
On a specific day : This allows you to select a particular date to receive a report.
After a certain number of occurrences : This allows you to enter the total number of times you want to receive the report from the start date.

Audience: This allows you to select the person whom you want to send the report. Say, Employee, Teams or Contacts. Here, it is Sales Manager.
Click on the "Create" button.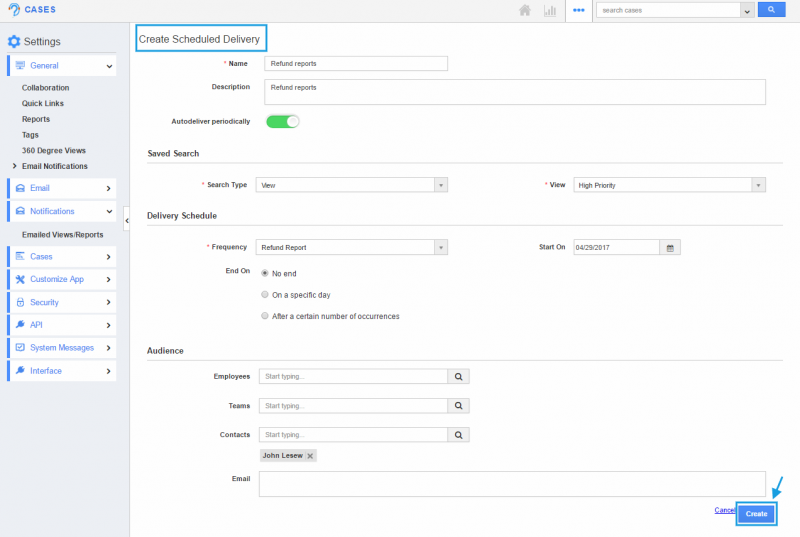 The reports of the cases with matched conditions will be sent to the respective email id as shown: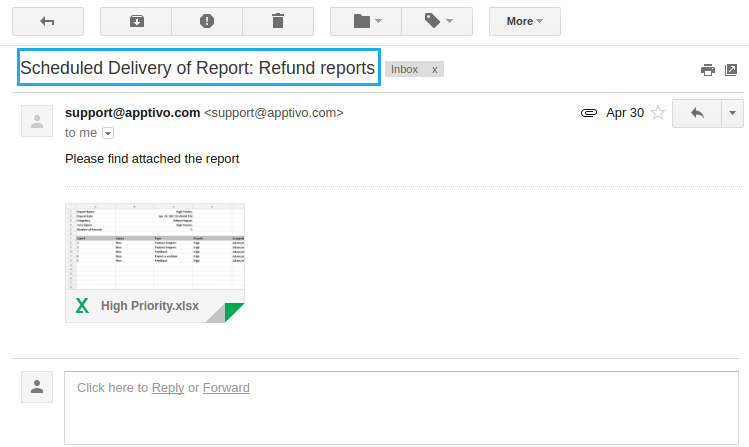 The downloaded view of the report will be as shown in the image below:



Related Links
Flag Question
Please explain why you are flagging this content (spam, duplicate question, inappropriate language, etc):