Browse by Solutions
Browse by Solutions
How do I Customize the Default Home Page View in the Candidates App?
Updated on June 5, 2017 01:58AM by Admin
The Homepage is the page that appears first when the user access the app. Candidates App allows you to customize the homepage you want as default.
For instance, an HR Manager wants to view only the candidates who has been scheduled for interview as his default home page. Then, follow the below steps to customize.
Steps to be followed
Go to Candidates App from app header bar.
Click on "More(...)" icon -> "Settings" -> "Customize App" -> "Views".




In Views homepage dashboard, choose "By Status" from the Default Home Page View dropdown. And then, select "Interview Scheduled".




You can change default home page view by selecting any one of the following:
Candidates Home - Displays default Candidates App home page with news feed and the recent Candidates.
Show All - Displays all Candidates.
To Follow Up - Displays the list of Candidates to be followed up.
By Directory - Displays the Candidates according to the letters selected in the directory.
By Status- Displays the Candidates according to their status.
By Industry - Displays the Candidates according to their industry.
By Tag - Displays Candidates according to the tags created.
Thus, "By Status - Interview Scheduled" appears as the default homepage view when the HR Manager access the App.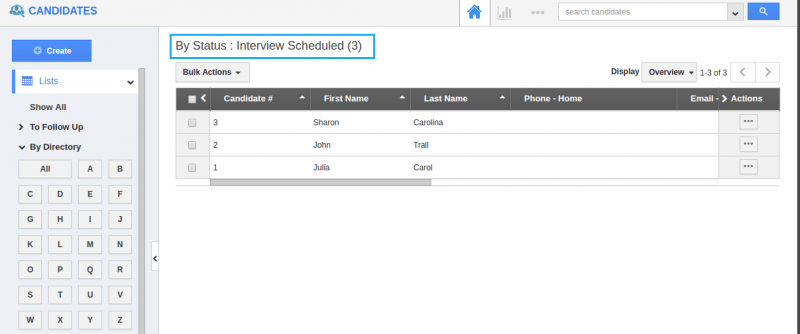 Related Links
Flag Question
Please explain why you are flagging this content (spam, duplicate question, inappropriate language, etc):