The most common place you'll insert a contact form will be within a "WordPress Page" that you create. For this example we have a page called "Contact Us", and we'll simply place a brief introduction along with our contact form on the page.
Start off by editing your existing page (or creating a new one). Type in an intro message if you so desire, and then enter the shortcodethat we noted in the previous section. Once the shortcode is pasted into your editor, go ahead and save/update the page.

Once the page is updated, your new form will instantly appear on the live website. Simply navigate to the page and you'll see the form. Now, go ahead and submit the form one time to verify everything works properly, and to generate a lead for us to review in Apptivo.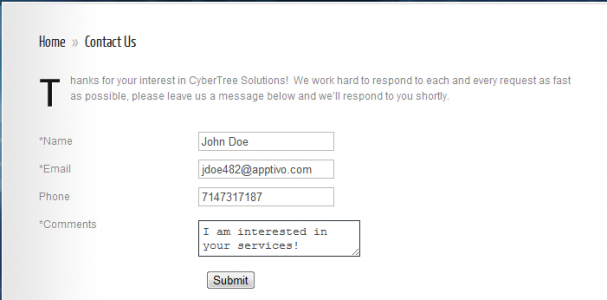 Remember this shortcode will work for any component in WordPress, not just pages. You can paste the shortcode into a widget, or post, and you will always see the same results. Although this is possible, it is still recommended to create a different contact form for every application.
Apptivo Business Site Developer Guide Navigation
Contact Forms: Front-End Integration