Browse by Solutions
Browse by Solutions
How do I Customize Data Level Access in the Customers App?
Updated on February 6, 2018 09:42PM by Admin
In any Business, it's absolutely essential to understand who your Customers are, and how to get in contact with them. Beyond the basics, you also want a system to review the history of Customer interactions, and store additional information for each Customer that allows you to segment and better control your business interactions with the said customer.

However, ensure that you grant access to only the most trusted employees of your firm. Remember, customer data is critical and should never fall into wrong hands.

Apptivo Customers App allows you to manage all of the information related to your customers from a central location.
Steps to Customize Data Level Access
Log in and access Customers App from your universal navigation menu bar.
Click on "More" icon and select "Settings" located in the app header bar.

You will be redirected to the Settings page. Click on "Security" from the left navigation panel.
You can view "Access Level" section as shown in the image below:

You have the following access options:
All - Everyone with access to the Customers App
Employees - If specific employees are selected, users only see a customer if they are on its team.

Select any of the above access option to set data level access.
Apart from specific employees, you can provide access to other users by enabling the Exception toggle. [May be your Sales Manager or General Manager]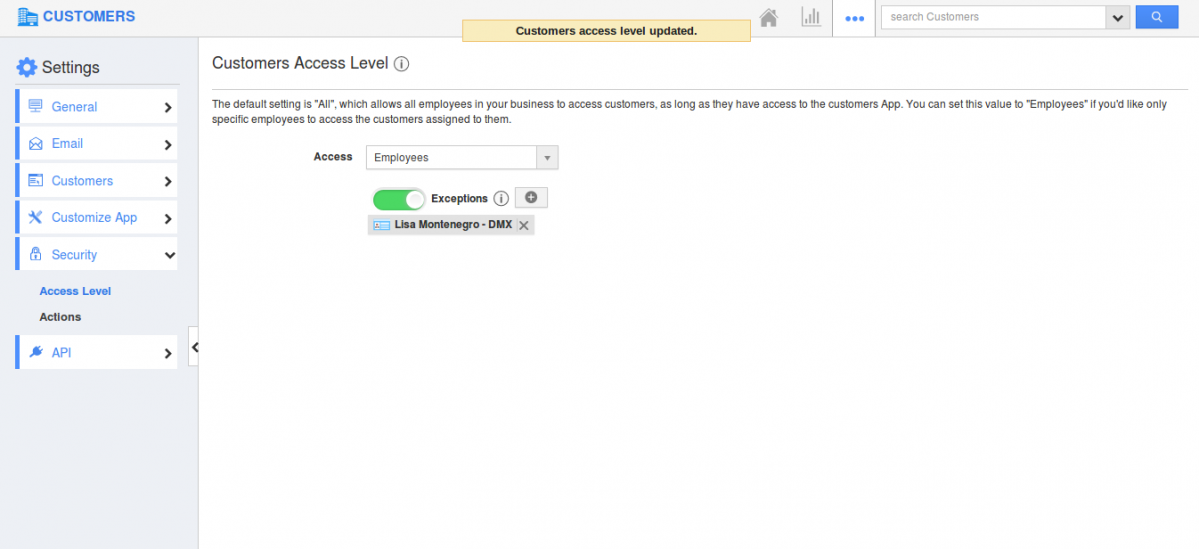 After enabling, you can add other users by clicking on "+" icon. It can be either employees or teams.[Make sure that all employees under team should have that required app access]
Related Links
Flag Question
Please explain why you are flagging this content (spam, duplicate question, inappropriate language, etc):