Browse by Solutions
Browse by Solutions
How do I Generate Number of Cases Created Report?
Updated on January 25, 2018 06:06AM by Admin
Cases app has many default standard reports. You can view the number of created cases report using the "Cases created" option. This is a prominent feature in Apptivo that is very useful for the users to analyze the number of cases and create a strategy to ensure similar issues are encountered again.

The following steps will make it clear.
Steps to Generate Number of Cases Created
Log in and access Cases app from your universal navigation menu bar.
Click on "Reports" icon located at the app header bar.

Click on "Cases Created" from "Cases Metrics" drop down in left navigation panel.

Provide the following information:
Receiving Email ID - Email address of the users (authenticated email addresses), will be displayed in the ascending order.
Start Date - Start date.
End Date - End date
Click on "View Report" button to view the report in the dashboard.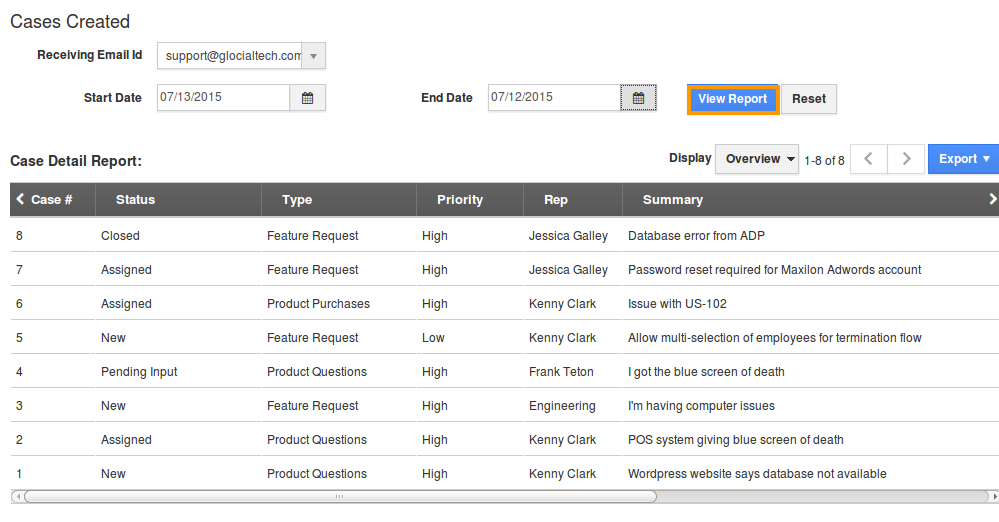 Click on "Export" option to view the exported results.




Related Links
Flag Question
Please explain why you are flagging this content (spam, duplicate question, inappropriate language, etc):