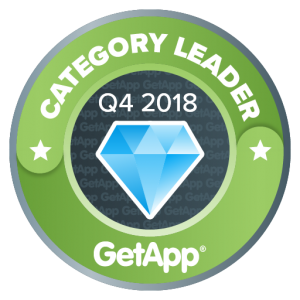 We are excited to announce that Apptivo CRM was just recognized as one of the Category Leaders for Customer Relationship Management software in Q4 – 2018 by GetApp.
With more than 100+ products and applications listed in this category, it wasn't an easy feat achieving the #1 Rank and we're only getting better.
To find the influence that we are making in our customers' lives only drives us further to continue to provide an innovative, top-of-the-line solution. Want to see how we can make an impact on the future of your businesses? Sign up for a free trial and get started today.
————————————————————————————————————————————–
"A solid solution for managing clients and incoming cases for a quickly growing business."
– Stephanie Stanley
"Terrific system, immensely scalable, a feature list that is endless…" – William Anderson
————————————————————————————————————————————–
The ranking is based on five categories each worth up to 20 points for a maximum score of 100 and ensures the ranking is completely independent of any connections GetApp may have to the companies being assessed.
1. User reviews – based on the number, average rating, and recency of reviews
2. Integrations – based on native integrations listed on GetApp the availability of an API, and Zapier integration
3. Mobile – based on the availability and rating (from Google Play and App store) of an Android and iOS app, or the mobile responsiveness of its web app
4. Media Presence – based on the number of followers on Twitter and fans on Facebook
5. Security – based on a security survey developed by GetApp, modeled on the Cloud Security Alliance self-assessment form.
About Apptivo
Apptivo is a high-end ERP/CRM platform which helps businesses of all sizes, ranging from just one user to thousands with its integrated suite of apps. Apptivo features 60+ integrated business apps covering CRM, Project Management, Invoicing, Supply Chain, Financials etc. Learn more.
Apptivo CRM Ranked as a Category Leader on GetApp for Q4 2018
was last modified:
October 16th, 2019
by