Apptivo is back to set up your business on high with some advanced features! Today marks a significant change in our journey as we have introduced modern authentication for all Microsoft users. Now, users have to reauthenticate with Microsoft to enable email Sync and email to case features with modern authentication. And, the Import feature for workorders is available, get the records in apptivo by importing all at once! Know more about the features and get access to them with the provided resources below.
Basic Authentication Deprecation by Microsoft:
The deprecation will be Effective from October 2022, Microsoft will randomly select tenants and disable the basic authentication.
From January 2023, Basic authentication will be permanently removed, and will be no possibility of using basic authentication.
Why? Since basic authentication has the lowest security standards, Microsoft accounts may be at risk of having their data compromised by hackers. Therefore, Microsoft is disabling it to secure your data.
Reauthenticate your apptivo account with Microsoft for Email Sync and email-related activities like the Email to Records feature to avoid any sync glitches.
Email Sync:
Email Sync is one of the basic things for any business as it'll be time-consuming to shuffle between your CRM and Email. That's why we've Email Synchronization to make your job easier. Since you employed Microsoft's basic authentication to make the Apptivo sync possible, the deprecation may have an impact on your sync methods. Your sync will be deactivated if the basic authentication is disabled by Microsoft, thus we've developed modern authentication that doesn't require passwords. This reauthentication is only required for the ones who have logged in to Apptivo using Microsoft. Reauthenticate, your Apptivo account with your Microsoft account. Read more
Email to Record for Office365:
We've enhanced the feature Email to Records by introducing it to all Microsoft users. Earlier, Microsoft users could access this feature by using only IMAP, now they can directly authenticate their Microsoft account by using O365. With the help of this feature, you could directly turn your emails into cases. You could get an intimation mail whenever an email turned into the records so that it would be easier for you to keep track of your customers requests and inquiries. While accessing this feature, you need to provide all the details like assigning the case to your employees, Receiving address of the mail, and many more. Read more
Import WorkOrders in Apptivo:
There may be instances where you couldn't access your apptivo account and entered the workorder details in a file. Then it'll become a handful for you to enter the records in the apptivo account manually. To avoid this kind of situation we have introduced the Import option in the WorkOrders app. Here, you can import the new orders or you could even update the existing records by uploading the CSV file. In case, if you have any failed records while importing you could download the file which will have failed records in it. Since this is already an existing feature in the other apps, it'll be easier for you to access. Try importing your workorders now! Read more
Apptivo Product Updates as of October 03, 2022
was last modified:
October 3rd, 2022
by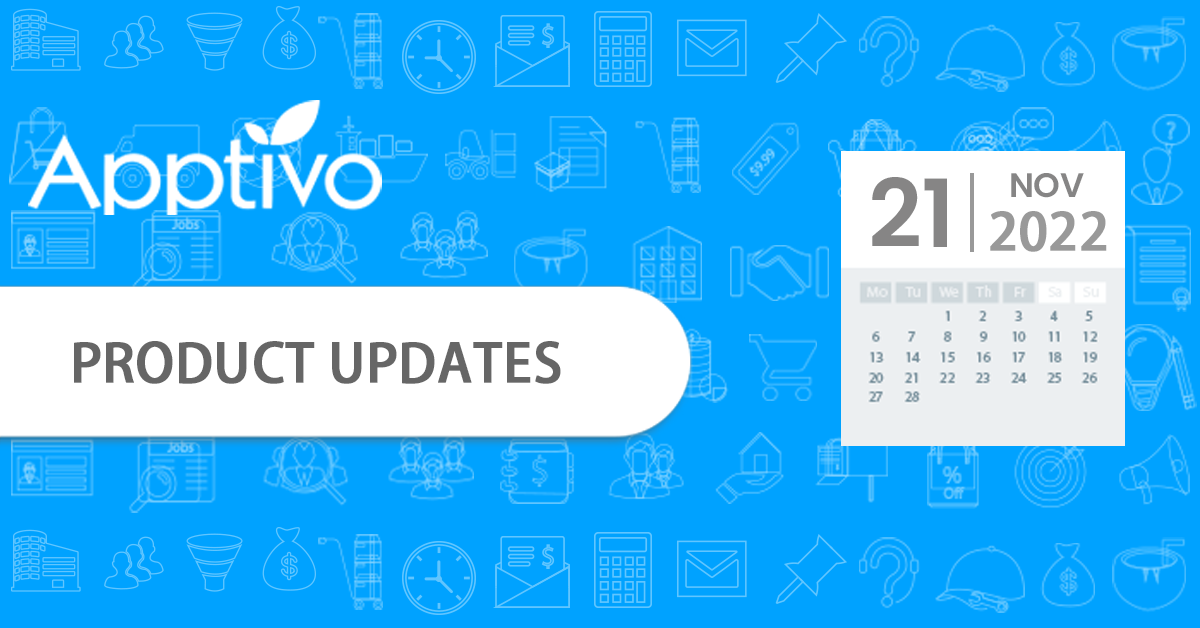 Apptivo Product Updates as of November 21, 2022
Any CRM should aim to advance your business and make work easier. That is why Apptivo develops innovative approaches to make your life easier by introducing fantastic features twice a month
Read more

→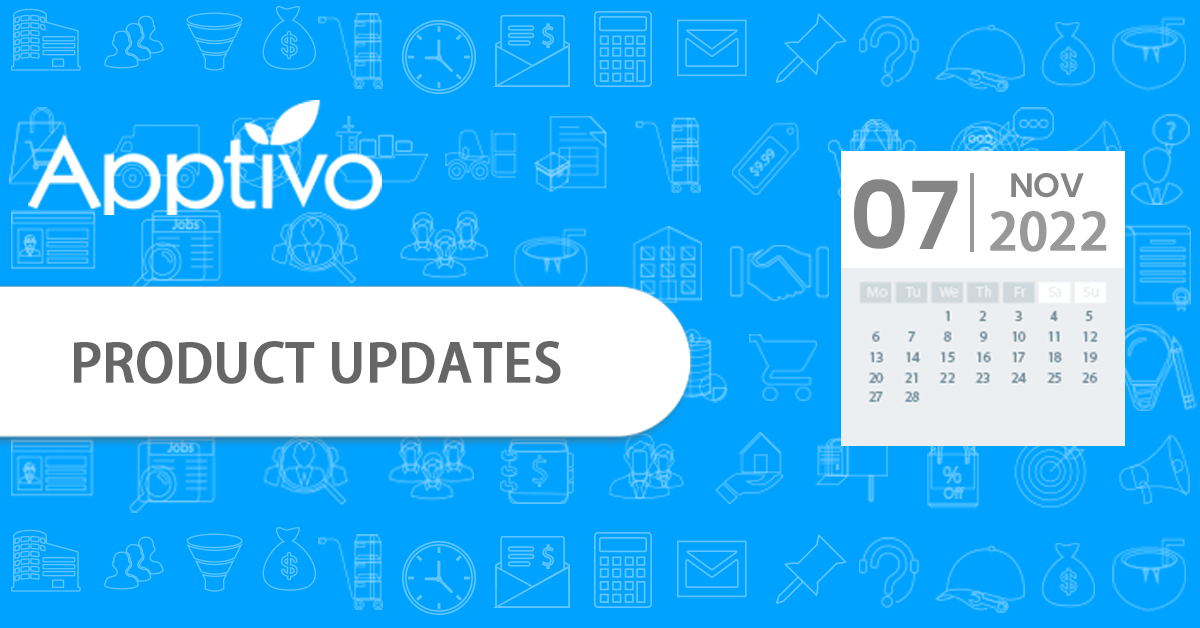 Apptivo Product Updates as of November 07, 2022
Early startups were raised on technology, and to stay up with the rapidly expanding business landscape, they must convert their workforce into digital technology while managing expenses. By providing a wide range of integrations and first-rate customer service, Apptivo is here to take care of businesses of all sizes
Read more

→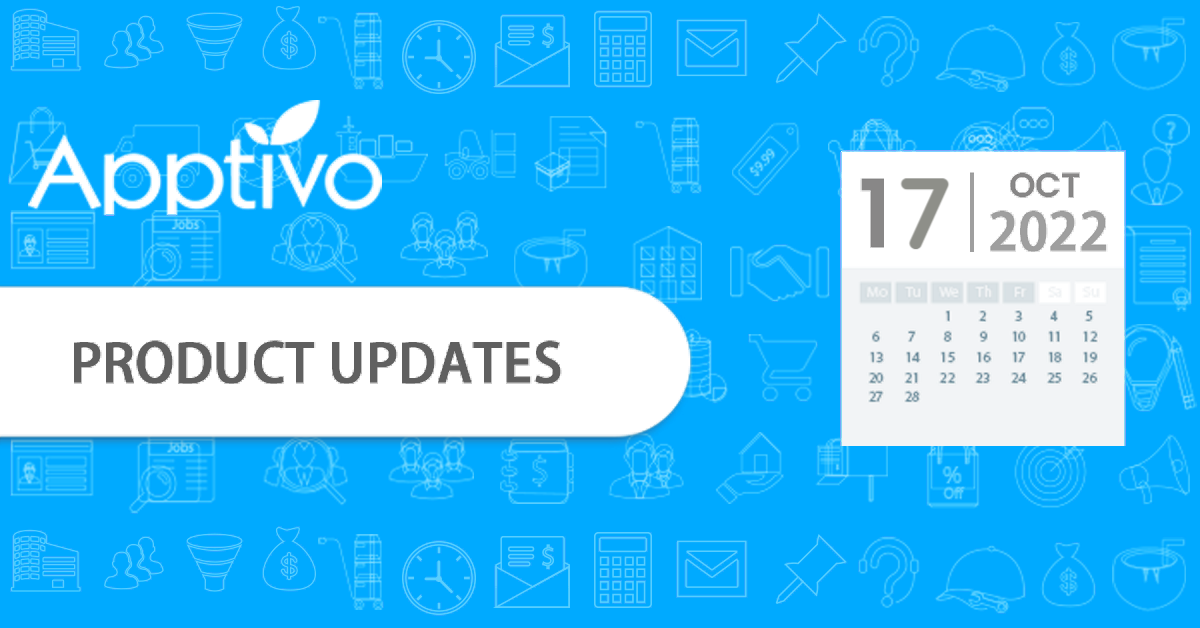 Apptivo Product Updates as of October 17, 2022
We're beyond thrilled to announce our new features this week! This further validates Apptivo as the go-to solution for your booming business. We're always enthusiastic when it comes to providing our customers with the finest features and boundless services
Read more

→